News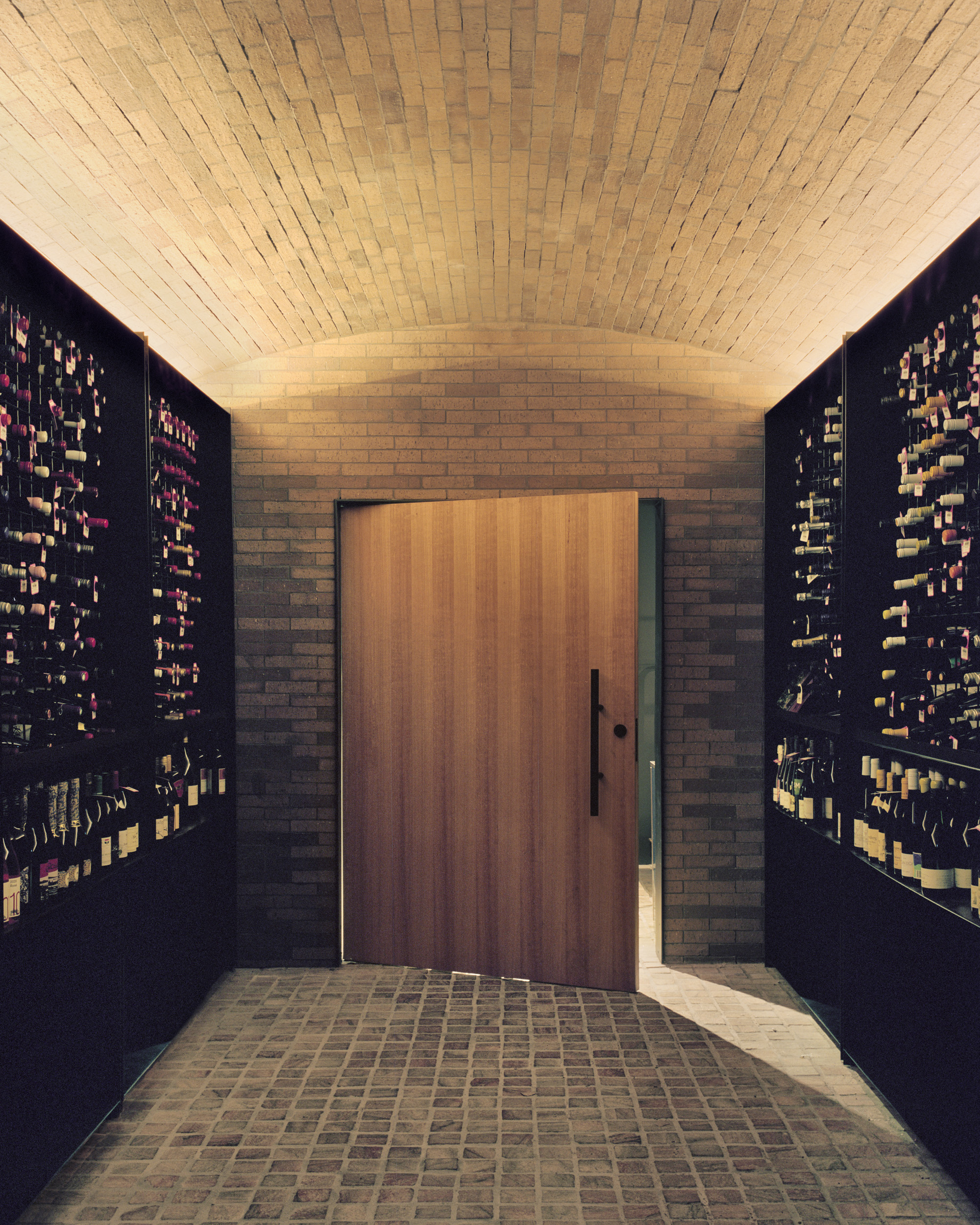 Our restaurant was recently awarded as having the best wine list in Australia. Twice! This also included being voted best in Victoria, best Regional, and best wine list 'by the glass'! A huge honour and truly humbling. Judge Jeni Port described the list as a "love letter to wine if ever there was one". Our sommelier team are very passionate about curating a wine list that not only has great depth and breadth, but takes the reader on a journey through stories from different regions and wineries – giving some context to their wines.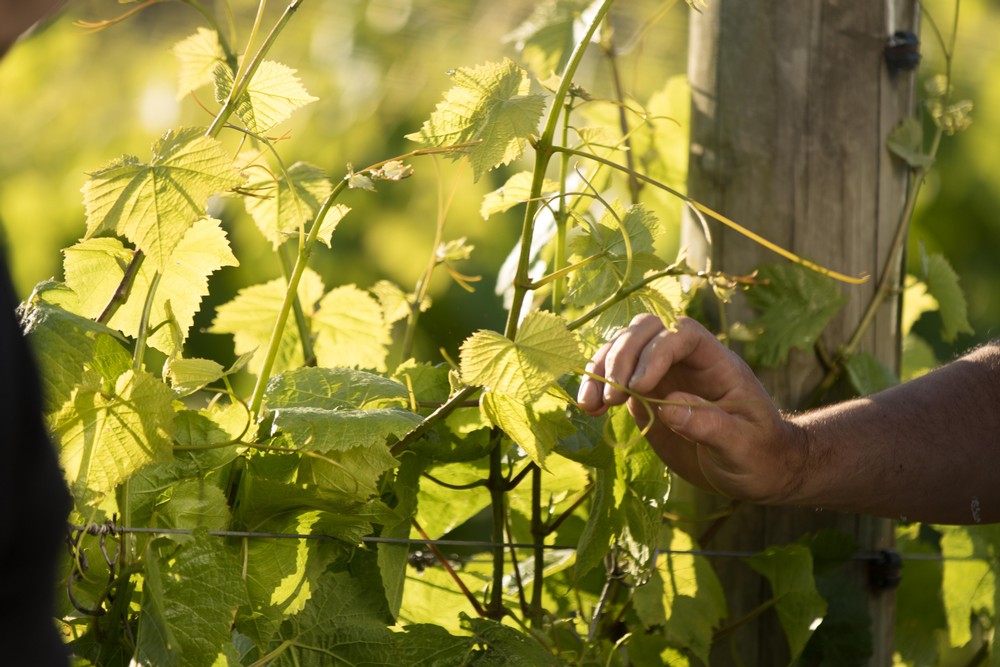 Coolart Road is our northern Peninsula, "down the hill" vineyard in the Tuerong region. It is our lowest vineyard at 72m. First planted in 2000, vines are now 21 years old. Since some replantings in 2012 the vineyard is now 100% Pinot Noir and we are currently in transition to our organic certification.
On average Pinot Noir ripens here 2-3 weeks earlier than our "up the hill" vineyards. Coolart Road typically delivers darker, fleshier fruit characters, possessing both power and grace.
The D block, sitting at the back corner of our Coolart Road property, consistently provides us with some of the highest quality Pinot from this whole site and so there's no coincidence that these 2013, 2015 and 2017 Pinots have all been made from fruit grown purely from this block.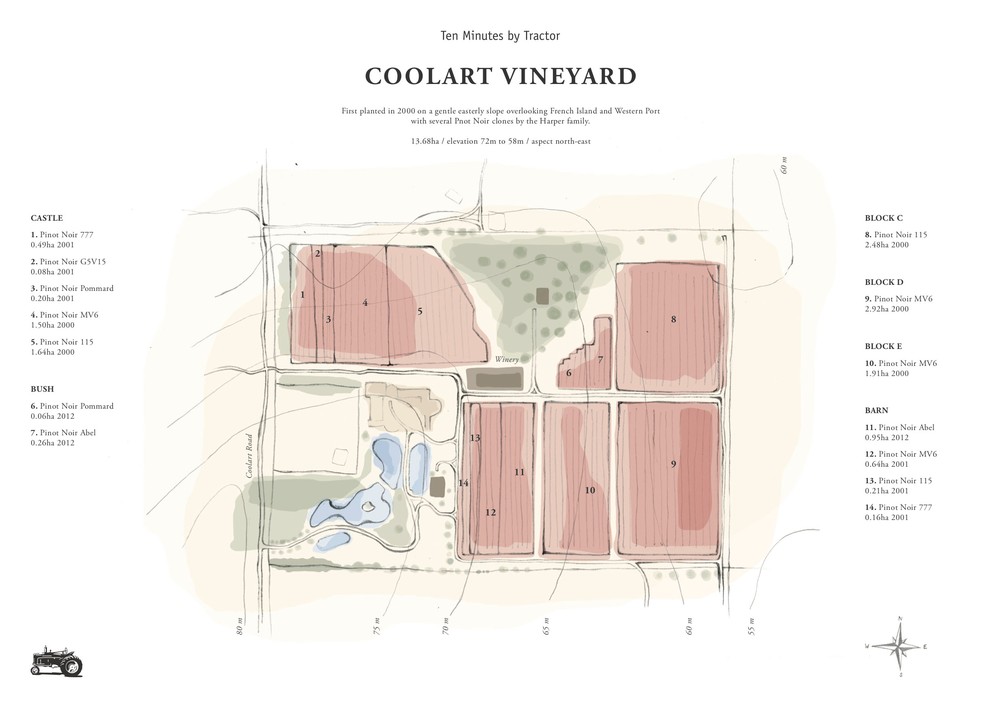 What makes the D Block so special?
The D block is quite protected by its tree-line surrounding however still receives sufficient airflow to moderate the microclimate. The rows on this block run north to south with a very slight gradient and the soil seems more consistent across the block which provides the vines with the same conditions throughout. This results in consistent flavour and tannin profile in all the fruit that we pick from this site.
The Pinot clone planted here is MV6 - a fantastic clone that consistently shows depth and power and always with a beautiful perfume. MV6 or the 'Mother Clone 6', comes from a selection taken in the 1970's from vines that had been grown from cuttings brought into Australia by James Busby in 1832. Busby's cuttings were taken from Clos Vougeot, in Burgundy and has a soft canopy, small bunches and berries which are characterised by concentrated plumy characters, and very good structure.
The fruit itself is robust and versatile and have experimented over the years with different percentages of whole bunch and fermentation management regimes to assess the impact on quality. Despite the difference in winemaking, D block always performs very well.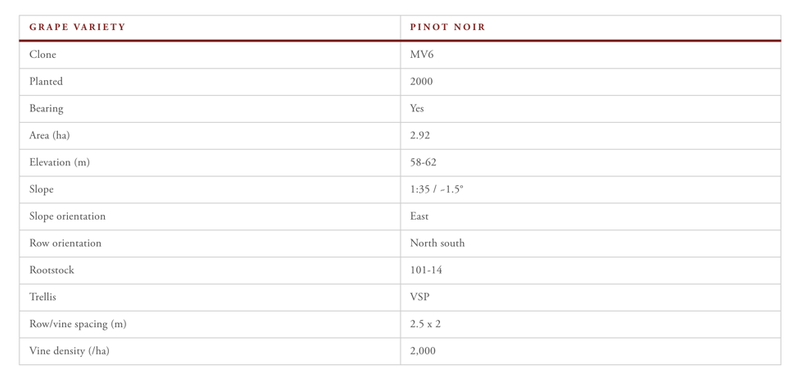 Vintage Overviews & Tasting Notes
2013
After good winter rains the 2013 vintage ended as one of our driest and earliest vintages on record. The favourable weather throughout bud burst and flowering set up the ideal conditions for a very good vintage.
Tasting Note:
This was the first Coolart single vineyard wine that we released. It is a wine that is looking younger than its years displaying dark cherry, tobacco leaf, pine resin and delicious savoury notes. Upfront tannins showcase the hallmark Coolart structure while savoury notes balance the softening dark fruit characters.
Tech Notes:
80% whole bunch pressed after 15 days on skins

15 months aging :: 20% new French oak barriques

13.8% alcohol
2015
Following heavy rainfalls in the winter, the 2015 growing conditions on the Peninsula were exceptional. Mild and consistent temperatures over the summer and a cool and dry autumn produced beautiful fruit, balanced yields and healthy canopies. The resulting wines have bright fruit, great balance and persistence. One of our very best vintages.
Tasting Note:
A very well balance and complex wine. Notes of violet, blackcurrant and strawberry jam are balanced with hints of autumn leaves, tobacco and cloves. Beautiful fine tannins coat the palate balanced by a juicy mouthfeel. This is a very interesting and complex wine but also has a good potential for aging.
Tech notes:
100% destemmed; all whole berries
15 months aging :: 24% new French oak barriques
13.8% alcohol
2017
Following an average rainfall and relatively warm winter, October was our third wettest on record (96mm v 62mm average) and November saw our second coldest maximum and minimum temperatures (19.3° v 20.9°, 9.6° v 10.9°), consequently the budburst interval (budburst-flowering) was our longest ever – 87 days v an average of 75 days – and flowering was our latest ever (5 December v our 21 November average). In the end, due to the excellent February and March, hang time (budburst-harvest) was average – 205 days v an average of 203 days – and harvest date was close to average – 1 April v an average of 28 March. Yields were down because of the problems around flowering but summer and early autumn saw long, slow ripening – perfect for our Pinot Noir and Chardonnay.
Tasting note: With such tiny yields it's a pleasure just to see this wine at all, with the perfect season great for quality but miserable for yields. Coolart is the earliest picked of the Ten Minutes by Tractor vineyards and you'd expect this to be a beastly wine. But it's not – rather, it's joyously plump and ripe, a wine of red raspberry easygoing flavour, yet with tannins and grip. Great balance of fruit flavour and structure.
Tech notes:
10% whole bunch pressed; destemmed portion all whole berries

11 months aging :: 30% new French oak barriques
13.0% alcohol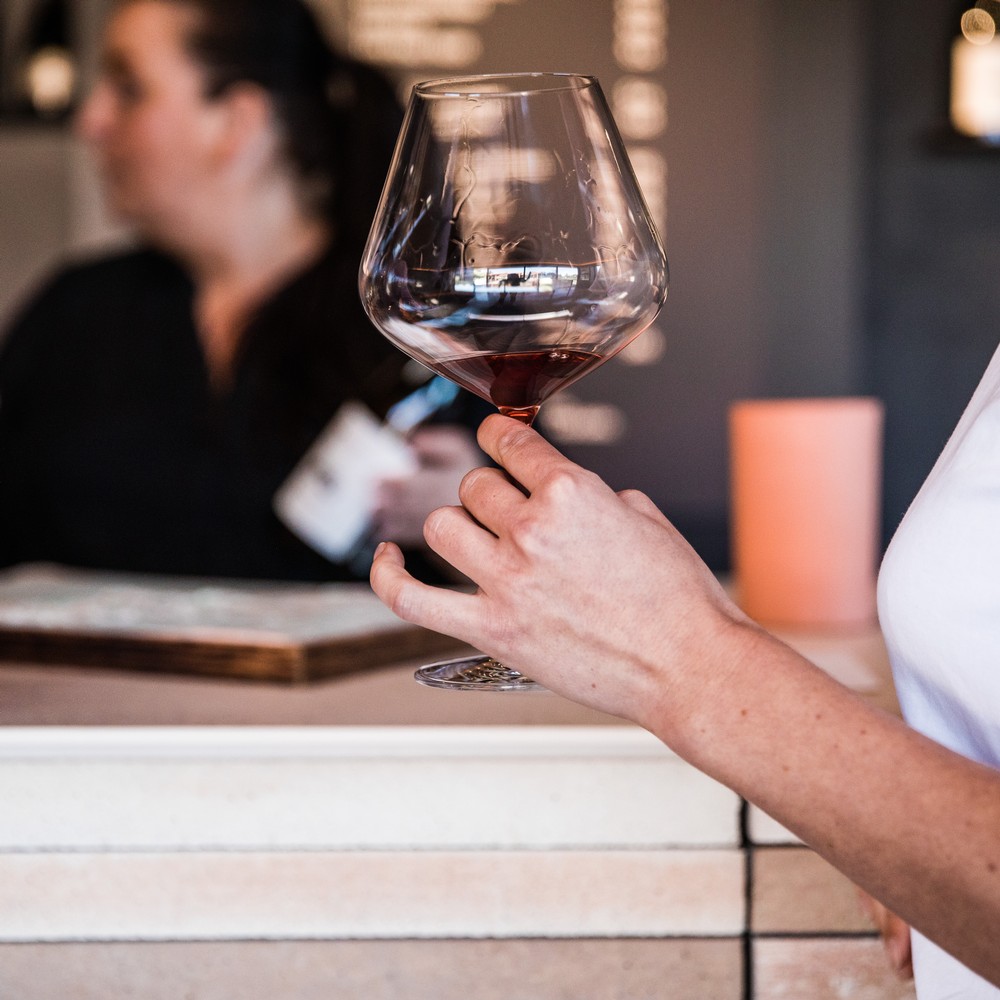 We are pleased to be reopening in time for the upcoming long weekend. However, now with the current restrictions in place, we have had to postpone our Wine Club event, Masterclasses and Terrace entertainment to the weekend of 24 & 25th July.
WHAT'S ON
New Release Tastings at the Cellar Door
Sat - Mon | 11am-5pm | $20pp including a branded Plumm glass
The release of our 2020 10X Chardonnay, Pinot Gris and Pinot Noir will also coincide with the long weekend and will be available for tasting at the cellar door and for purchase online from 11 June.
We will be offering tastings in the cellar door starting from $20pp which will include a beautiful Ten Minutes by Tractor branded Plumm glass (RRP $42). The tasting fee component will be waved for our Wine Club members.

Visit the link below to reserve your tasting.
Winter Menu Launch & Museum Wine Pairings

Sat - Mon | Lunch & Dinner
We will be launching some new dishes on Winter Wine Weekend and will also be offering a special wine pairing featuring new release wines alongside a selection some of our best wines from over the past decade.
We encourage you to make your reservation promptly as we anticipate high demand over this weekend.

To make a reservation call 03 5989 6455 or visit the link below.
Purchase the 2020 10X New Release Wines
The 2020 10X wines showcase what was a long cool vintage with great elegance, depth of flavour and bright natural acidity. Because our yields were significantly reduced in 2020 there will be very limited availability of these wines and they are likely to sell out in the coming few months.
PURCHASE WINES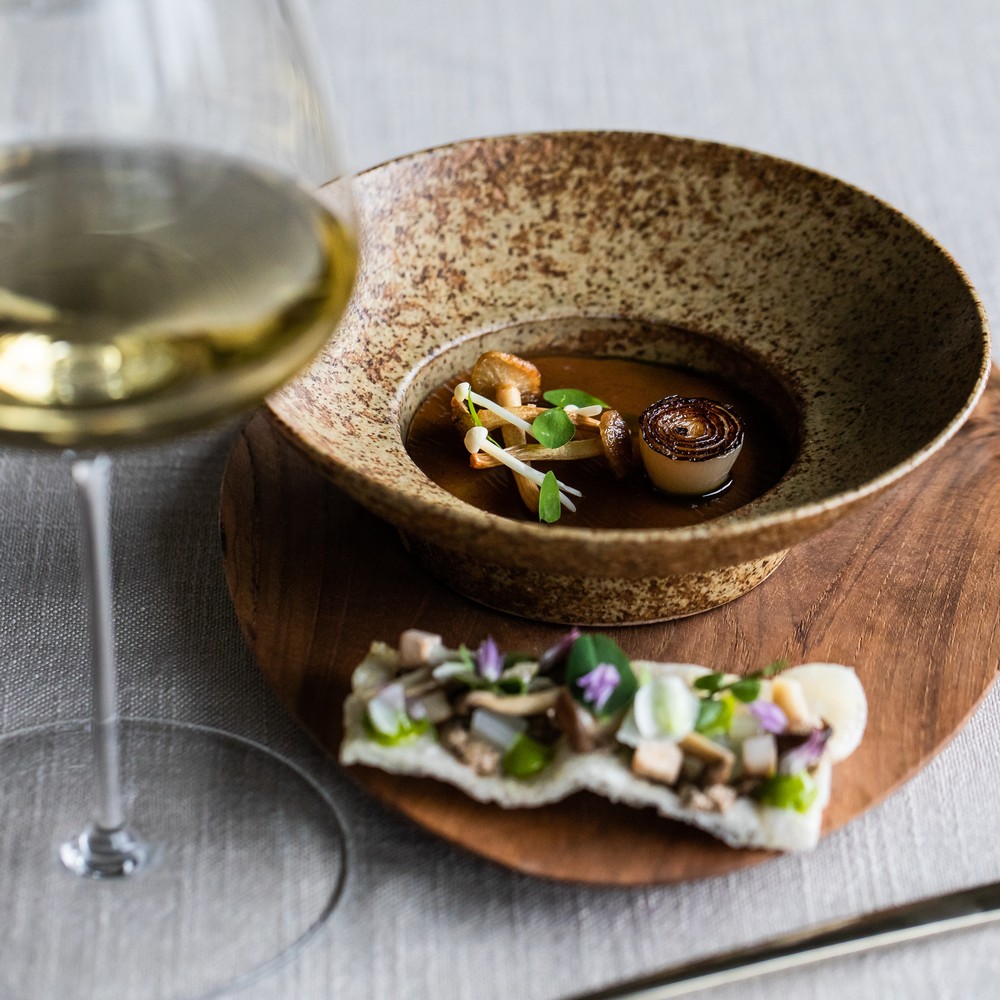 Join us on Saturday 25 June as we explore some of Victoria's best and most innovative winemakers.
Details
Lunch or Dinner reservation, 25 June
1333 Mornington Flinders Rd Main Ridge VIC 3928
$190 per person for 6 course tasting menu or $300 with matching wines
About
Winemaking is a craft developed over thousands of years but some winemakers are making waves with new techniques and styles. Join us as we explore some of Victoria's traditional and most famous wines, up against some wonderful varieties and styles showing Victoria is also on the bleeding edge of wine innovation. Each of these exciting and iconic wines will be paired with a six course tasting menu featuring the best produce the Mornington Peninsula has to offer.
The Menu
Red Hill Truffle snacks
Mossy Willow beetroots, goat cheese, macadamia, apple balsamic
Flinders mussel, tartar sauce, beach succulents, sea lettuce crisp
Mushroom Forestry parfait, king oyster, lovage, wombok, shiitake cracker
Tuerong Dorset Down lamb, celeriac, black garlic, kale, pomegranate
Mary's meyer lemon, white chocolate and yuzu cream, verbena, dehydrated honey
Brown butter, slippery jack butterscotch, mandarin leaf ice cream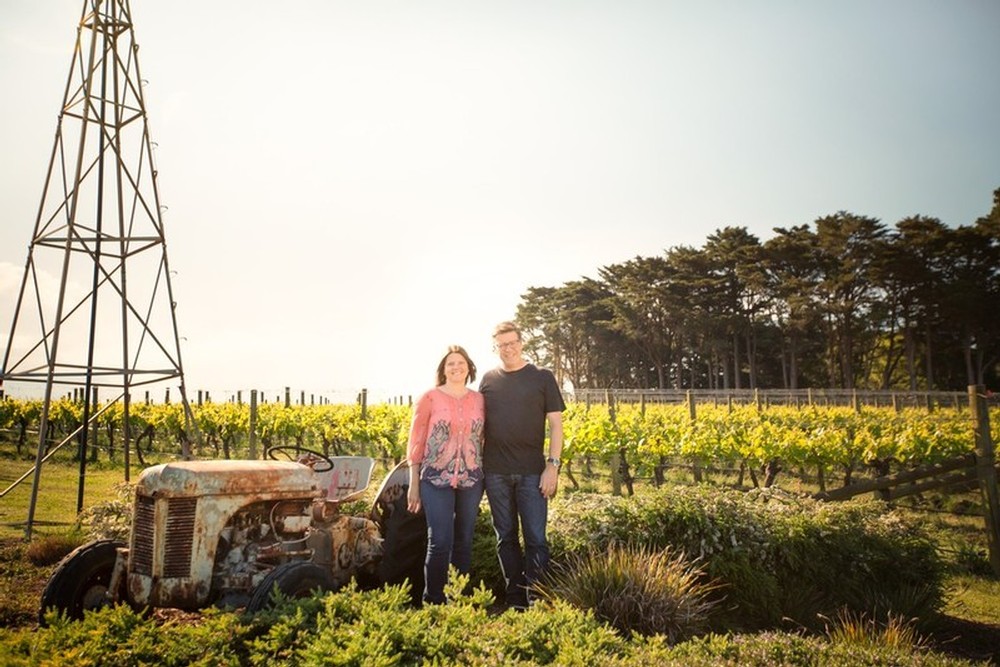 The last three years have taught Martin and Karen Spedding a thing or two about resilience – and patience. Their winery, Ten Minutes by Tractor, perched high in the hills of the Mornington Peninsula, was dealt a devastating blow when a fire tore through the estate in February 2018, destroying the acclaimed restaurant and cellar door, a $500,000 wine collection and several vintage tractors.
The Speddings and their team rebuilt and the restaurant reopened in late 2019, only for the COVID-19 to hit just a few months later, shuttering the new dining and cellar door operations for most of 2020.
It was a worrying time for the family business but it "certainly helped strengthen us and build resistance and it fired up our creativity as well," says Martin of the most challenging period they've faced since buying the winery in 2004. But things are finally looking up. The newly reopened restaurant has expanded, with a new private dining room for 24, plus a large outdoor terrace for sipping away the summer. Head chef Adam Sanderson's six-course seasonal tasting menu is driven by fresh produce from local growers. "We're excited for people to come back and experience it," says Martin.
They have other reasons to be grateful. The business employs up to 50 staff depending upon the season and many of them have been able to retain their jobs during COVID. Martin tells how the restaurant quickly pivoted to The Art of Dining In – an at-home meal service "to stay connected with our customers and keep some cash flow coming in". Staff from across the business were also retasked to work in the vineyards and the winery.
Previously the CEO of a tech company, Martin gave up the office life in favour of a "wine change" when he and Karen purchased Ten Minutes by Tractor from its original founders: three families who had joined their neighbouring Main Ridge vineyards together in a co-op in 1997, the properties all 10 minutes by tractor apart. And while they've diversified the business, winemaking remains the lifeblood.
Ten Minutes by Tractor produces between 10,000 and 14,000 cases a year depending upon the crop and while it predominantly sells in Australia, it's also exported to about 10 countries across Europe, Asia and the US. This international market proved a godsend when nationwide restaurant shutdowns saw the winery's local sales collapse (restaurants account for more than 50 per cent of wine sales). "During COVID we actually picked up about three or four new export markets which was surprising and obviously very welcome," says Martin.
Pinot and chardonnay are the winery's signatures (standout vintages, Martin says, include 2015, 2017 and the upcoming 2019 collection) and Mornington's diverse landscape makes it a great location to live and grow grapes. "It's such a beautiful place and so unique. It's so compact and in very short spaces you can move from the rugged coastline on the western side to the hinterland and the rolling hills and then the golden-sand beaches of Port Phillip Bay on the other side. There are walking tracks, bike trails, golf courses, more than 50 wineries and some of the best places to enjoy food and wine that you'll find anywhere in Australia."
"We're able to efficiently manage those business expenses with the Card, plus it has real benefits for our cash flow," says Martin. "It was a quick process to set it up and it's an efficient way for us to manage business expenditure, whether it be for the vineyard, winery or in managing the restaurant. And, of course, the points earn is a big factor that will help cover the cost of flights interstate when we're doing trips to see customers and to fly internationally for various export markets once overseas travel resumes. I'm guessing we'll earn about half a million Qantas Points with the Card over the course of a year."
But first, Martin and Karen are looking forward to using their Qantas Points to see more of their family. Just a few days after the NSW/Victoria border reopened in November, Martin was back in the air for a very special reunion – making a trip to Sydney to visit his daughter Gabby and 14-month-old grandson, who he'd only seen once in 10 months. "I missed his first birthday. There's been a lot of missed milestones in 2020. It's been a year to forget but it's also reminded us of the things that are important to us."
They'll also use their points to see more of Australia – "We're all quite excited about the opportunity to do a lot more domestic travel; we've talked about going to Broome or up to the Northern Territory" – and once international travel resumes, they're planning a trip to Canada to visit his in-laws, as well as family time in Fiji or Hawaii. "But we won't be taking any holidays for a while," Martin smiles, as he looks forward to the months ahead. "We're certainly hoping that a lot of people will be getting out of the city and back into the regions. I think we're all looking forward to an uneventful but very busy summer."
Martin Spedding's top business tips | Ten Minutes by Tractor
Create an experience that keeps people coming back: "We really have to be the best we've ever been," says Martin. "I think the COVID fallout has pushed us really hard to keep striving to do better." Case in point: Ten Minutes by Tractor's new and improved cellar door. "Over the next 12 months we're putting a lot of effort into our new tasting rooms and planning a new wine gallery, which is really about providing a great experience for people who come and visit us; something that's memorable and different rather than just a very straight forward tasting of the wine. People are looking to immerse themselves and learn in impactful ways. Those experiences are what people love about travel. Even if they haven't got time to do everything on this trip, that's a reason for coming back and doing more next time."
You're stronger as a team: Ten Minutes by Tractor started as a co-operative and this spirit lives on among the Speddings and their fellow peninsula winemakers. "Our region is dominated by small family-owned wineries and growers of apples and cherries and other produce so we work very closely with the other wineries to promote the region and cooperate across a range of issues that impact the industry," says Martin. "We compensate for our size by working together to share knowledge and experiences so we can continue to improve everything we do and to embrace sustainable agricultural practices to protect the health of our soils and our vines."
Published 1 Dec 2020
By Mark Brandon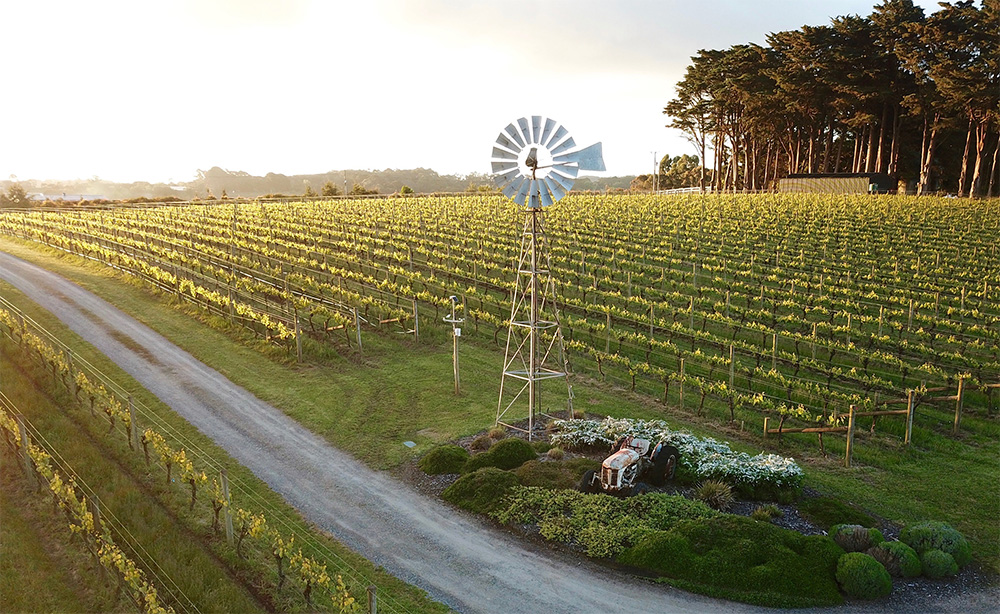 "To mark the resumption of travel following the pandemic shutdown, even as other state and territory borders remain controversially closed, a panel of seven experienced tourism and travel identities was formed asked to name their seven most inspiring wonders of tourism in Victoria…
Respondents, ranging from tourism industry leaders and executives to a leading author and television personality with a love of travel favoured some rugged attractions in our diverse state backyard….
GEOFF MANCHESTER, Intrepid Group co-founder and director
MALLACOOTA A great feeling of isolation, especially following the drive through the Gippsland forests. So many Victorians never venture out east; the Mallacoota Caravan Park is green, spacious and rarely busy and there's beaches, walking and fishing. See visiteastgippsland.com.au
TEN MINUTES BY TRACTOR RESTAURANT Set in the hills of the Mornington Peninsula near Red Hill this is an intimate space with creative food and an amazing selection of local wine. See tenminutesbytractor.com.au
WALHALLA An 1860's goldmining town that is now the proverbial ghost town. It feels like it is in the middle of an ancient forest, but the whole area was once denuded of timber, which was used for the gold mining. The cricket ground is spectacular, being the only flat area around. See visitwalhalla.com
MELBOURNE'S FARMERS MARKETS. With so many of us renewing our interest in cooking, sourcing food from individual grower at farmers' markets adds to the experience. Collingwood Children's Farm market is in a spectacular location, while the Alphington Market is a practical option held every Sunday. See mfm.com.au
BRIGHT While it is the place in Victoria for autumn colours, it is still a place to visit all year, with snow, on-road and off-road cycling, wineries, restaurants and the Ovens River to laze around in during summer. Great cider at the pub! See visitbright.com.au
GREAT WESTERN. May not sound like a town and there is not much to it, but it has two of Victoria's best and most historic wineries in Best's & Seppelt. Best's often have some very old wine for sale, while Seppelt has its famous drives, the underground cellars with millions of bottles stored. See visitvictoria.com
PENINSULA HOT SPRINGS. This is the type of sustainable tourism development we should replicate around the state. It has grown over the years, but maintains the feel of a small establishment and they have a great focus on the customer experience. See peninsulahotsprings.com
To read more, visit: https://www.traveller.com.au/victoria-best-places-to-go-the-seven-highlights-of-the-state-named-by-the-experts-h1oe94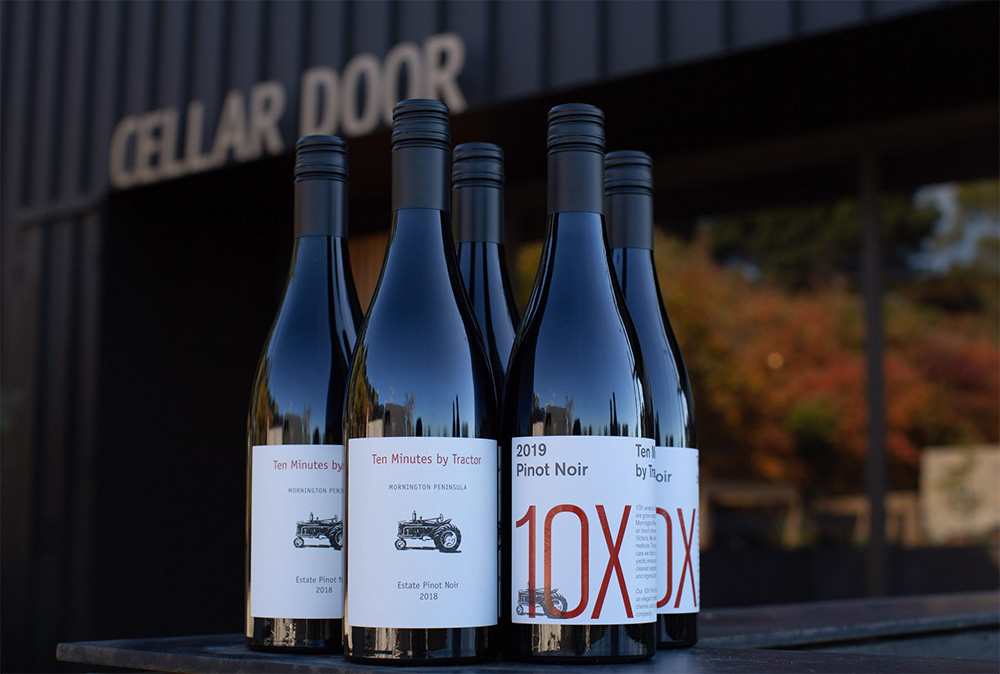 We are pleased to announce the release of our 2019 10X Pinot Noir and 2018 Estate Pinot Noir, which are now available to purchase through our website and cellar door. These wines are from two outstanding vintages on the Mornington Peninsula and we are very excited to share them with you.
In lieu of tasting these wines at our cellar door, we invite you to to view a short tasting hosted by Martin and Imogen as they discuss our new release Pinots.
10X PINOT NOIR 2019
"Easily the prettiest 10X Pinot in some years, this entrée to the Ten Minutes by Tractor Pinot range is a very likeable wine. It's round and red-fruited through the mid palate, every bit the classic, generous Mornington Pinot, yet with subtle mushroom nuances and a flutter of compact, but real tannins."
– Andrew Graham for TMBT
ESTATE PINOT NOIR 2018
"Using fruit from both 'down the hill' and 'up the hill' imbues this Pinot with welcome layers of flavour. There's bright fruit, but it dovetails into something darker, the tannins nicely bitter in a savoury fashion. The detail, the completeness of a Pinot that is perfectly mid-weight and assured in its regional style."
– Andrew Graham for TMBT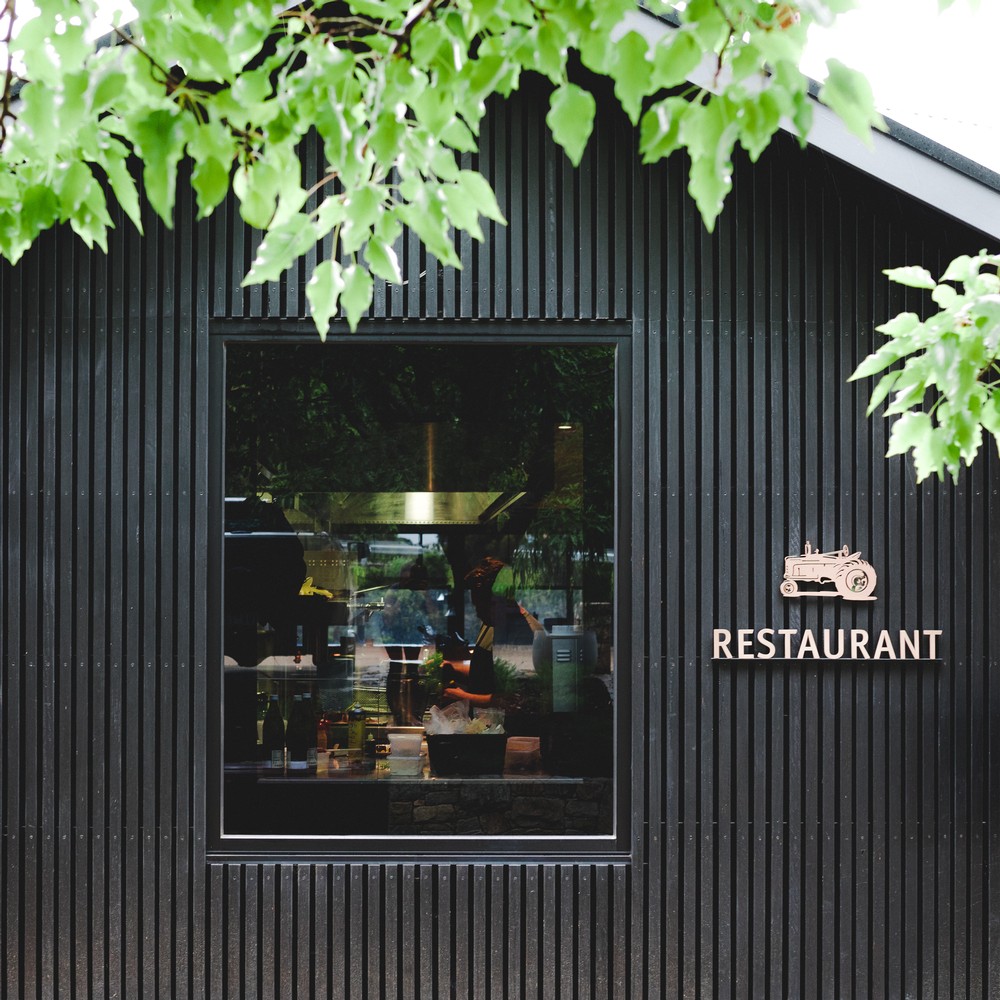 We continue to remain open and are very appreciative of your ongoing support in helping keep our business and the local economy running.
The health and safety of our customers and the Ten Minutes by Tractor team, as always, are our number one priority. We have always upheld the highest standards of health and hygiene practices across our business, but given the current situation, we are taking additional precautions to ensure the safety of all.
These include:
Ensuring we are fully aligned with the Australian Government Department of Health guidelines and updates.
Removing tables in the restaurant to increase the space to 1.5 metres between tables. This policy has also been implemented in the Cellar Door.
Reducing covers in the restaurant by up to 50% to allow for greater social distancing.
Separating groups in the Cellar Door so tastings are conducted at least 1.5 meters apart.
Sanitising all public areas consistently throughout the day including all surfaces, doors, handles, bathrooms, EFTPOS machines, across all aspects of the business including the office, cellar door, restaurant and winery.
As you would expect, all staff are regularly washing hands and utilising hand sanitiser before and after interacting with customers. Hand sanitiser is also now located throughout the restaurant and cellar door.
We have a strict wellness policy and all staff are adhering to social distancing guidelines, so while we warmly welcome guests, this will be without any physical contact.
As you can appreciate, this is an ever-changing climate, and we are closely monitoring the advice and recommendations from the government and health organisations. We will make sure to keep you updated if and when things change.
Here at Ten Minutes by Tractor we love what we do and strive to continue to make your experience at our Cellar Door and Restaurant as enjoyable as possible.
Best wishes,
Martin, Karen & the Ten Minutes by Tractor team
For reservations or more information please visit our restaurant page or call 03 5989 6080.
We are pleased to announce that all our 2017 Estate & Single Vineyard wines have received outstanding results from James Halliday in the recently released 2020 Halliday Wine Companion.

All Single Vineyard wines were awarded between 95 and 97 points and the Estate wines received 94 or 95 points.

Some of what Halliday said about our wines:
"An exercise in finesse and restraint"
"Flavours intersecting every corner of the mouth"
"Vibrant", "Energetic palate" "Very fine, active mouthfeel", "Lingering finish"
"I really enjoy the '17 Mornington Peninsula pinots, and this is one of the best."

Due to lower yields and the demand for the 2017 wines, quantities are limited, so we wanted to encourage our friends to purchase them now while they are still available.
2017 Wallis Pinot Noir :: 97 points
Hand-picked, wild-fermented, 7 days on skins, matured for 11 months in new and old French barriques. Light, bright crimson; An exercise in finesse and restraint, partly due to the cool vintage, but duly recognised for its special qualities of pomegranate and cherry. Drink by 2030.

2017 Wallis Tasmania Pinot Noir :: 97 points
It's a mark of the knowledge, intelligence and bravery of Martin Spedding to include this wine in a vintage that produced this lovely, but light-bodied, pinot. There are those who might fall to the temptation of including 10% of the dark-fruited and strongly structured Tasmanian wine, as they are legally able to do, and say nothing about it if they so wish. Drink by 2031.

2017 Coolart Road Pinot Noir :: 96 points
MV6 clone, hand-picked, wild-fermented, matured for 11 months in new and old French barriques. Balanced, savoury elements with joyous flavours of black cherry; tannins ex fruit and oak are finely judged. I really enjoy the '17 Mornington Peninsula pinots, and this is one of the best. Drink by 2029.

2017 Judd Chardonnay :: 96 points
Clone P58, yield 2t/a, hand-picked, whole-bunch pressed, wild-fermented, 53% mlf, matured for 10 months in French oak (15% new), 233 dozen made. Vibrant singular shaft of flavour first up; minimal oak influence. White peach and grapefruit lead the way along the energetic palate, flavours intersecting every corner of the mouth. Drink by 2030.

2017 McCutcheon Chardonnay :: 96 points
Clone P58, hand-picked, whole-bunch pressed, cloudy juice direct to oak (15% new) for wild ferment and 74% mlf, 10 months maturation, no batonnage, 134 dozen made. Very fine, active mouthfeel, melon, grapefruit, Granny Smith apple; lingering finish. Drink by 2030.

2017 Wallis Chardonnay :: 96 points
Hand-picked, whole-bunch pressed, cloudy juice direct to 600l French and Austrian barrels (15% new), 88% mlf, 10 months maturation, 206 dozen made. Gently smoky oak on the bouquet, then white peach and nectarine flavours dominate the palate, but don't block the freshness all the wines have. Drink by 2032.

2017 McCutcheon Pinot Noir :: 95 points [Wine Club Only]
Has obvious similarities to the Judd tasted alongside, although this is a more gamey, peppery offering, and also slightly more sweetly-fruited. Strawberry, cranberry, and smoky oak contribute to the flavour spectrum with the texture and mouthfeel providing another dimension. The finish is more tartly astringent than tannic and lingers attractively in the aftertaste. Drink by 2027.

2017 Judd Pinot Noir :: 95 points
The cool vintage has played its part in shaping this wine no doubt, and it's certainly a fine-boned, elegant release. Aromas range from stems and undergrowth to crushed sour cherries (pips and all) and exotic woody spice. The flavours are both ripe and sappy, building gradually along the palate but essentially quite delicate, as is the light but gently persistent tannin. Drink by 2027.

2017 Estate Pinot Noir 'Up the Hill' :: 95 points
Lighter colour than most of its siblings. The converse of the Down the Hill Pinot, not necessarily what I expected. Very pretty strawberry red fruits, the fragrance of the bouquet and mouthfeel and length impeccable. Drink by 2027.

2017 Estate Pinot Noir 'Down the Hill' :: 94 points
A best barrels selection from vineyards at lower altitudes. Supple and spicy, with juicy red fruits criss-crossing the well balanced palate. Made for drinking, not sipping. Drink by 2025.

2017 Estate Chardonnay :: 94 points
Hand-picked from five vineyards with clones I10V1 and P58 over a month, matured for 10 months in French and Austrian oak, no batonnage, 43% mlf. Vibrant and juicy, with grapefruit leading the pack of flavours; elegant finish. Drink by 2027.

It has taken 15 years and a lot of hard work to finally get to this point. Vintage 2019 is the first harvest processing our fruit in our own purpose built winery on our Coolart Road vineyard.
Following a lower than average rainfall and relatively standard temperatures over the winter, cooler temperatures in August and September led to late budburst and flowering.
Above average temperatures and low rainfall during summer meant an early veraison and harvest. Five days of above average temperatures at the beginning of harvest has compressed the vintage further, with 'up the hill' fruit, which has lower yields, being picked immediately after 'down the hill'. On average, there is two weeks difference in ripening between our down the hill vineyard in Tuerong and up the hill vineyards in Main Ridge. There has been very little gap this year.
Ten Minutes by Tractor commenced picking on the 27th February at our Coolart Road vineyard and we will finish the picking up the hill vineyards by around 20th March.
The yields are normal and fruit quality is outstanding, particularly up the hill. The down the hill fruit has higher sugar levels from the warmer weather experienced during picking. Up the hill fruit has maintained very good acidity and beautiful flavours. At this very early stage we would say that the 2019 vintage has a lot of promise, better than 2016 and 2018 and quality to match or exceed 2017, but time will tell.
- Martin Spedding
Instagram Feed