6 April 2023 | Wine | Gabrielle Richardson
The Real Review - Close planted vineyards and wine quality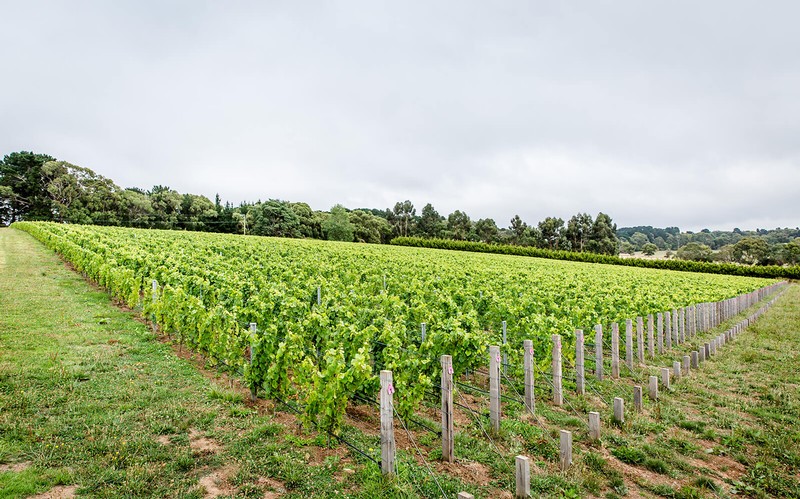 Close-planted vines produce better wine, no?
Well, they must, because the classic French wines from Burgundy, Champagne, Chablis, and most other places are grown in vineyards that are close-planted, much closer than typical Australian vineyards.
Most close-panted vineyards in Australia are very young, but youth may have been immaterial as the Bannockburn pair were by common agreement the hardest to tell apart.
But it's not that simple.
What works in Volnay or Vouvray doesn't necessary translate to Australian conditions.
A tasting at a workshop on close-planting, conducted as part of the recent Pinot Noir Celebration Australia on the Mornington Peninsula, was inconclusive.
The tasting was of eight glasses of pinot noir, two each from four producers. One was off a close-planted vineyard, the other off a conventional vineyard of the same producer, in the same locality, and using the same winemaking. All were MV6 clone.
The wines were Bindi Darshan 2019 (close) and Bindi Original Vineyard 2019; Ten Minutes By Tractor McCutcheon Vineyard 2022 and Ten Minutes By Tractor Spedding Vineyard 2022 (close); Bannockburn Estate 2019 and Bannockburn Serré 2019 (close); and Scorpo Old Cherry Orchard 2021 (close) and Scorpo Eocene 2021. The wines were randomised and the tasters were asked to try to tell which was the close-planted in each pair. Most—possibly all of us—failed to*.
Most close-panted vineyards in Australia are very young, but youth may have been immaterial as the Bannockburn pair were by common agreement the hardest to tell apart, although the Serré vines were mature (average age 39 years).
So, what drives vignerons like Bindi's Michael Dhillon and Ten Minutes By Tractor's Martin Spedding to plant vines at high density, which is estimated to cost at least four times as much to establish?
The panel laid out the advantages and drawbacks of high-density.
Advantages
The entire vineyard is involved; there is no idle land.
Greater lignification (the stems are woodier, which is useful for whole-bunch fermenting).
Roots drive deeper, making for stability of moisture status.
Saves irrigation water (Spedding said it uses half the water).
Smaller bunch and berry size, which increases concentration.
Shading of the fruit-zone, so less sunburn risk, and leaf-plucking is safer.
Grape yield per vine is reduced so more goodies go into each berry.
Drawbacks
Setup cost is estimated between four and five times that of a conventional vineyard.
Fungal disease problems are increased in wet seasons.
'Normal' vineyard machinery doesn't fit the rows.
Reduced yield per vine may be seen as a disadvantage depending on quality and yield per hectare.
In cool, high-altitude sites, the vines don't set fruit if they're too close.
"You wouldn't do it unless you had a fantastic site," said Dhillon.
Spedding and Dhillon both have very small crawler tractors to work their high-density vineyards, and these, while expensive, have an added advantage of reducing soil compaction: "less than a single human walking down the row."
What is a high-density? The Burgundy and Champagne standard is one metre by one metre, which results in 10,000 vines per hectare. Traditional Aussie vineyards have as few as 2,500 vines per hectare. The panel, consisting of Spedding, Dhillon, climatologist Greg Jones and viticulturist Tim Brown, agreed that anything less than 1.5m spacings is high-density.
Read more here: https://www.therealreview.com/2023/03/07/close-planted-vineyards-and-wine-quality/
Comments
Commenting has been turned off.
Instagram Feed