Region
MORNINGTON PENINSULA
The Mornington Peninsula
"Mornington Peninsula is probably doing more for Pinot Noir than anywhere else. In a good vintage, this region is capable of making some of the most aromatic and silky Pinot Noirs in Australia."
— ANDREW CAILLARD MW
The cool climate Mornington Peninsula is now internationally recognised for producing much of Australia's finest Pinot Noir and Chardonnay. The Australian Geographical Indication "Mornington Peninsula" was entered in the Register of Protected Names on 18 March 1997.

John Gladstones, in his definitive book 'Viticulture and Environment' says the region…

"…has arguably the best ripening climate in Victoria for light to medium bodied table wines…this would appear to be one of the few regions of Australia where the precise characteristics of the great Burgundy wines (both red and white) might reasonably be aspired to."

Almost half the vines planted on the Mornington Peninsula are Pinot Noir, followed closely by Chardonnay. A smaller amount of Shiraz and other cool climate varieties are planted, but it is the more recently introduced Pinot Gris which is fast creating an exciting reputation for fine quality and regional distinctiveness.

There are now more than 200 vineyards, 60 wineries and at least 50 cellar doors on the Mornington Peninsula. Most are concentrated around Red Hill, Red Hill South and Main Ridge, with clusters at Moorooduc and Tuerong in the north, and Balnarring and Merricks towards Western Port Bay.
The very early signs that the Mornington Peninsula held distinct promise as a winemaking region came in 1886, when the first commercial winery established in Dromana won an honourable mention in the Intercontinental Exhibition in 1886.

Vines had been planted on the Mornington Peninsula since the 1850s, when the Balcombe family produced wine from their small vineyard at The Briars in Mount Martha (one of the original vines still exists on the estate, which is managed by the National Trust and Mornington Peninsula Shire and is open to the public).

However, while patriarch William Balcombe had gained fame both for hosting Napoleon Bonaparte at his family home on the island of St Helena and later as the Treasurer of the colony of NSW, his achievements did not extend to wine, which was dubbed 'Briars Vinegar' by the locals.

In the 1870s and 80s, Simon 'the Frenchman', who lived in the hollow of a tree on Arthur's Seat and was the first European to settle for any length of time on the Mornington Peninsula's highest hill (305m), also dabbled in winemaking.
---
McCutcheon Vineyard
The easterly fall of this vineyard offers perfect gentle warming of the soil from sunrise through to the late afternoon. During the day the vines receive very good light without the intense heat which keeps the fruit cooler during the growing and ripening season.
Ten Minutes by Tractor owners Martin and Karen Spedding purchased the McCutcheon vineyard in 2006 from Vivian and Andrew McCutcheon one of the founding families of Ten Minutes by Tractor. The McCutcheon Vineyard is on the due east facing slope of a valley running from the ridge along Roberts Road in Main Ridge at an elevation of 200m in the west to Rocky Creek at the bottom of the valley at an elevation of 174m in the east. Rocky Creek, on the eastern boundary, runs through almost 0.5 hectare of wetland, a lily pond and an irrigation dam; it runs into Main Creek at Barkers Road and Main Creek eventually flows into Bass Strait at Bushranger Bay.
One of our highest parcels of Pinot Noir and Chardonnay revel in the morning sun on the gentle easterly slopes of this vineyard. The good vigour and canopy shoot position allow fruit to ripen slowly and evenly through the summer months.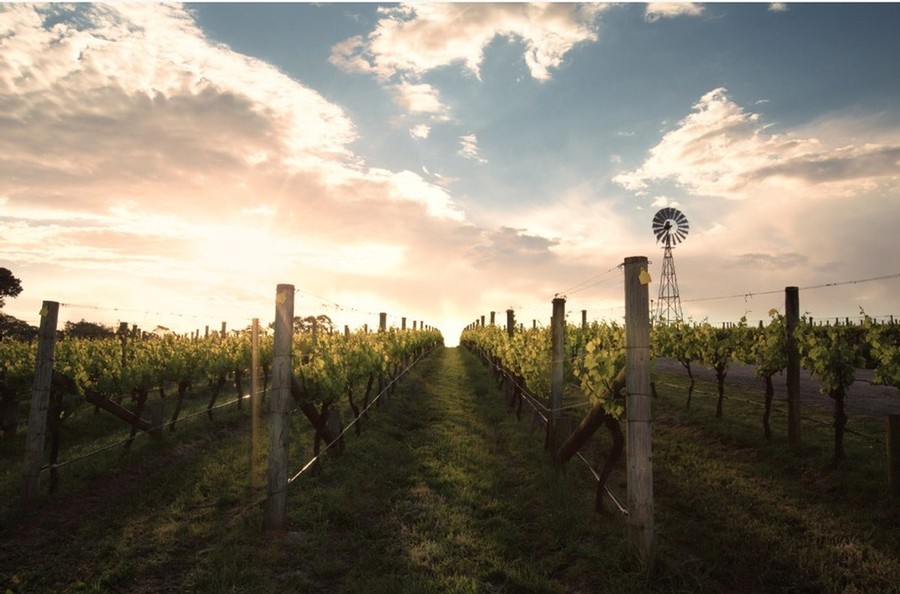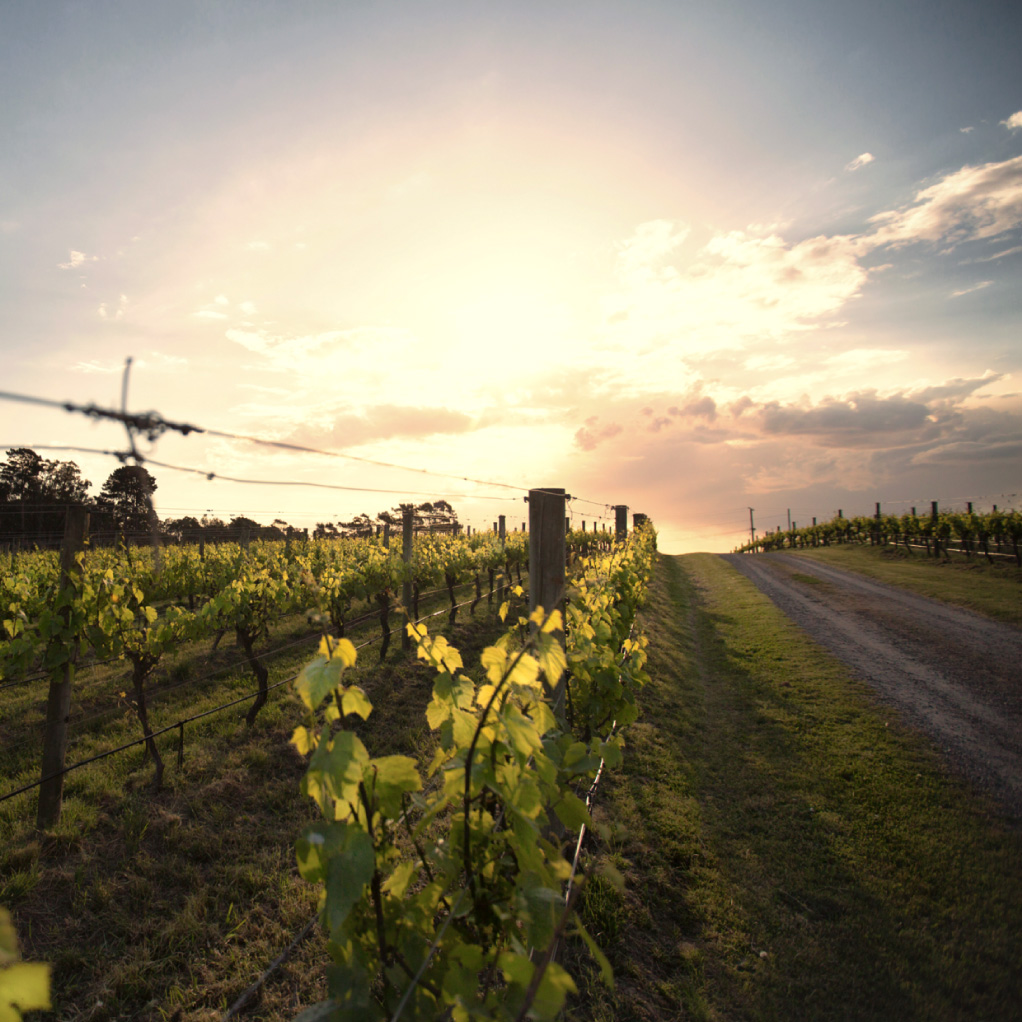 Macrae reported that the property was eminently suitable for grape growing, and advised that they get soil tests, and consider planting some 15 acres. So in 1992 they commenced work on dams, water storage, irrigation systems, vineyard layout and earth works, finally completing initial planting in the spring of 1992.

1995 saw the first crop and the start of negotiations with local wineries to buy the fruit. Both Dromana Estate and Stonier were interested, and bought fruit for a number of years. Small amounts of wine were also made by Vivienne and Andrew under the Peninsula Ridge label until 1999 when Ten Minutes by Tractor was formed. The original Ten Minutes by Tractor cellar door was on the McCutcheon Vineyard until the new restaurant and cellar door opened just around the corner in 2006.
HIGHEST ELEVATION


200m

VINEYARD SIZE


5.42ha

ASPECT


East

YEAR PLANTED


1992
---
Judd Vineyard
"The property has approximately 10 hectares of land highly suitable for viticultural development…this site is capable of supporting economic crop levels of winegrapes of very high quality."
— VITICULTURAL CONSULTANT IAN MACRAE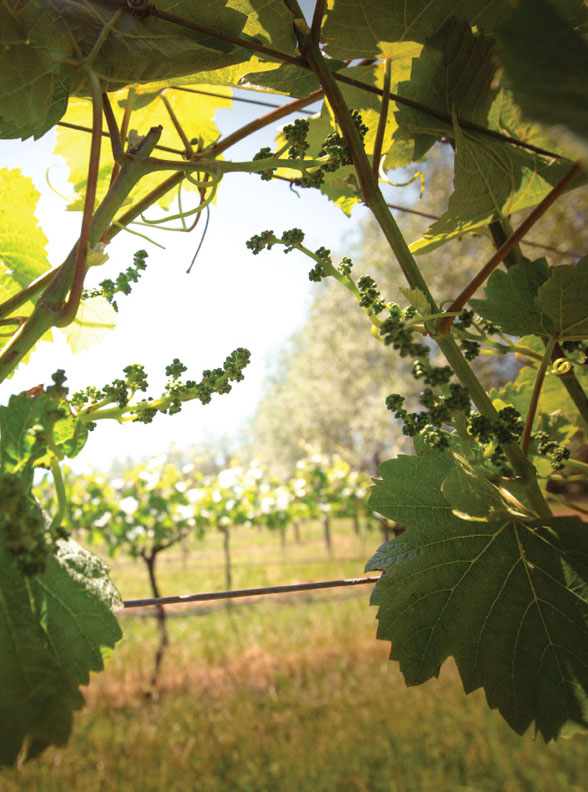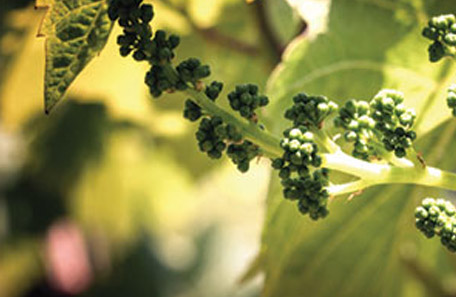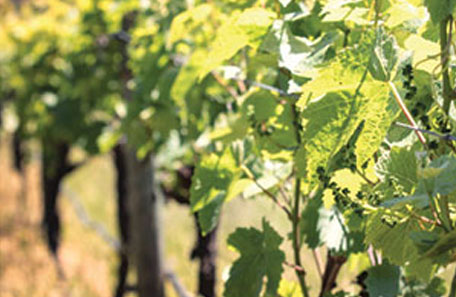 The Judd Vineyard is on the due west facing slope of a valley running between the ridges of Main Creek and Purves Roads in Main Ridge at an elevation of 206m in the east to Splitters Creek at the bottom of the valley at an elevation of 159m in the west. The property extends up the opposite, east facing, slope where our olive grove is planted. The Splitters Creek valley begins near Arthurs Seat Road and the Judd vineyard sits just over 3 kilometres south of there. Splitters Creek runs into Main Creek at Baldrys Road and Main Creek eventually flows into Bass Strait at Bushranger Bay, some 11 kilometres to the south.
HIGHEST ELEVATION


206m

VINEYARD SIZE


5.86ha

ASPECT


West

YEAR PLANTED


1990
---
Coolart Road Vineyard
"In the glass, look, I am not going to be shy here because I loved this wine. It has deep and lingering aromas of cherries, cooking spices and game and its palate finishes with long and delicate length. Possessing both grace and power…"
– SEAN MITCHELL, WINE WRITER
Our Coolart Road Vineyard in Tuerong was first planted in 2000 with several Pinot Noir clones (777, G5V15, Pommard, MV6 and 115) and small amounts of Chardonnay, Sauvignon Blanc and Riesling which have now been grafted over to Pinot Noir. The vineyard covers an area of 13.68 ha and ranges in altitude from 72m to 58m, so a gentle slope of ~2° facing north-east. Row orientation is north-south.
First vines were planted here in 2000 and 2001 and the first vintage, under the Voice of the Vine label, was 2005. In 2008 Ten Minutes by Tractor became involved and we have sourced grapes from here from the 2009 vintage. In 2012 small plantings (1.82ha) of white varieties (Riesling, Chardonnay and Sauvignon Blanc) were removed from two blocks and replaced with Abel and Pommard clone Pinot Noir.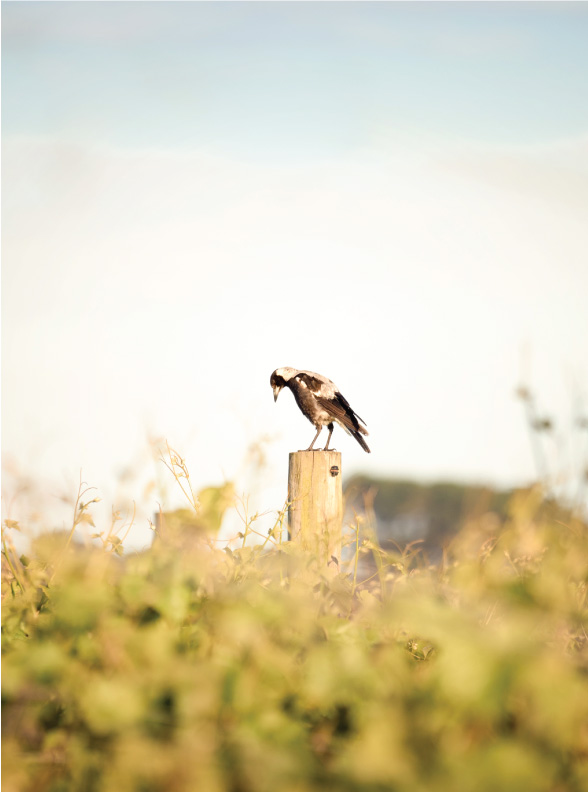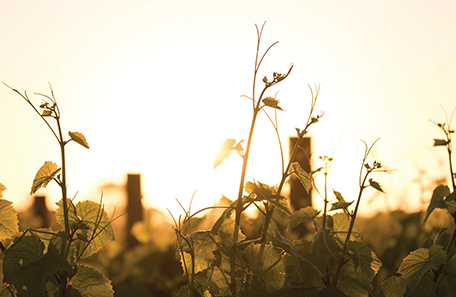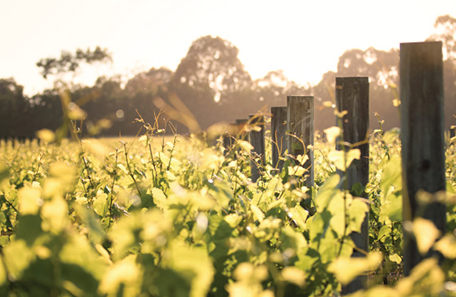 In 2017 Martin and Karen Spedding purchased the entirety of Coolart Rd vineyard and are relocating the wine making facilities to this site.
HIGHEST ELEVATION


72m

VINEYARD SIZE


13.68ha

ASPECT


North to East

YEAR PLANTED


2000
---
Wallis Vineyard
"(The) Wallis is one of the finest wines ever to come to us by Tractor, capturing alluring exotic complexity within a style of silky refinement, effortless balance and considerable persistence."
– TYSON STELZER
Gentle north – north east facing slope. Our lowest vineyard nestled in the Cotton Tree Creek valley has long days in the full sun, resulting in early ripening fruit that matures with full flavours. Also home to our Pinot Gris. .
Peter and Elizabeth Wallis developed a passion for Pinot Noir and the great wines of Burgundy that commenced in the 1970s it was this passion that encouraged them to learn more about wine and establish their own vineyard.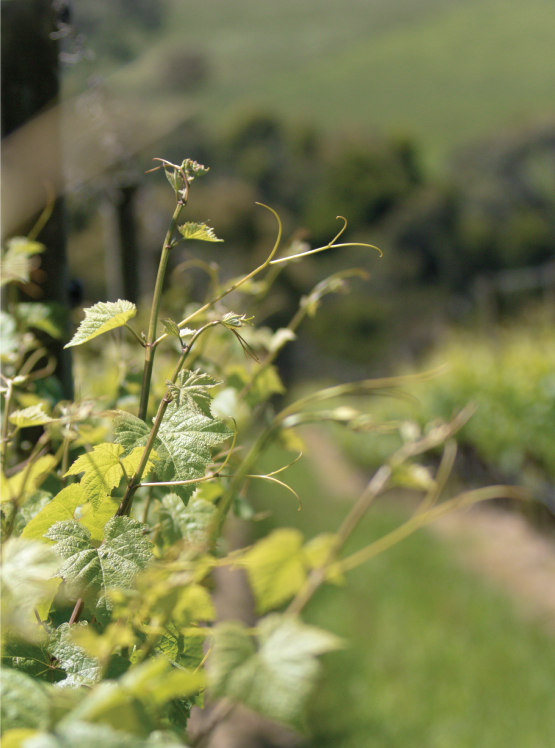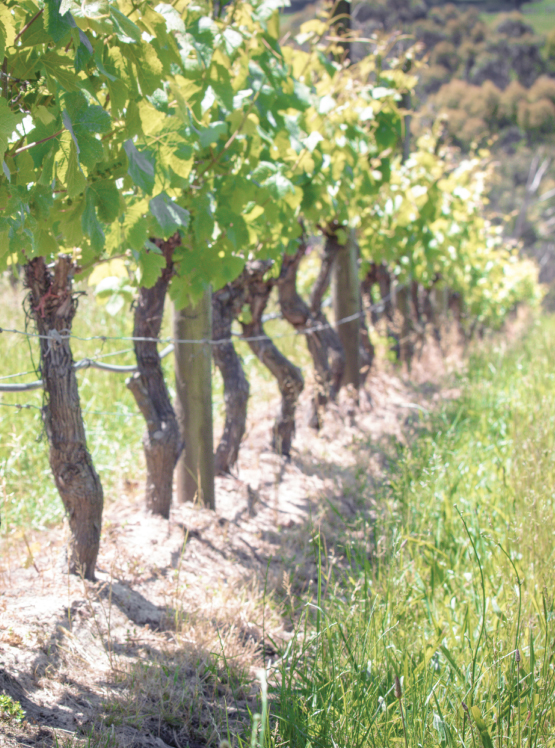 They found land which appeared suitable in Main Ridge and after consultation with Ian Macrae purchased the land in 1992. It was a vacant 50 acre steep NE facing block with few trees and a permanent creek in the valley at the bottom of the slope (and a big view to Westernport Bay in the east). Ian Macrae initially advised planting 5 acres of Chardonnay (as the site was potentially cool) and see how it went. Despite being initially disappointed at not planting Pinot Noir, they pressed on and established dams, windbreaks and buildings.
HIGHEST ELEVATION


142m

VINEYARD SIZE


4.84ha

ASPECT


North - North East

YEAR PLANTED


1992
---
Spedding Vineyard
After searching far and wide across the Peninsula over the last 15 years, we believe that this is one of the best vineyard sites on the Mornington Peninsula. The combination of its location, its easterly aspect and the new vineyard architecture we have adopted, a culmination of all our collective wine industry experience and what we have learned over that time, makes this the most exciting project Karen and I have embarked upon since Ten Minutes by Tractor began.
- MARTIN SPEDDING
The Spedding vineyard is the second vineyard that Martin and Karen have planted since acquiring Ten Minutes by Tractor and therefore has taken on the same vineyard naming convention.
This property had an existing vineyard, planted around 2000 to replace an existing apple orchard, but it presented a once in a lifetime opportunity to acquire an outstanding vineyard site. Removal of the old vineyard (other than a small parcel in the south-east corner) allowed us to plan in detail and prepare the ground including comprehensive drainage and preliminary cover crops before planting.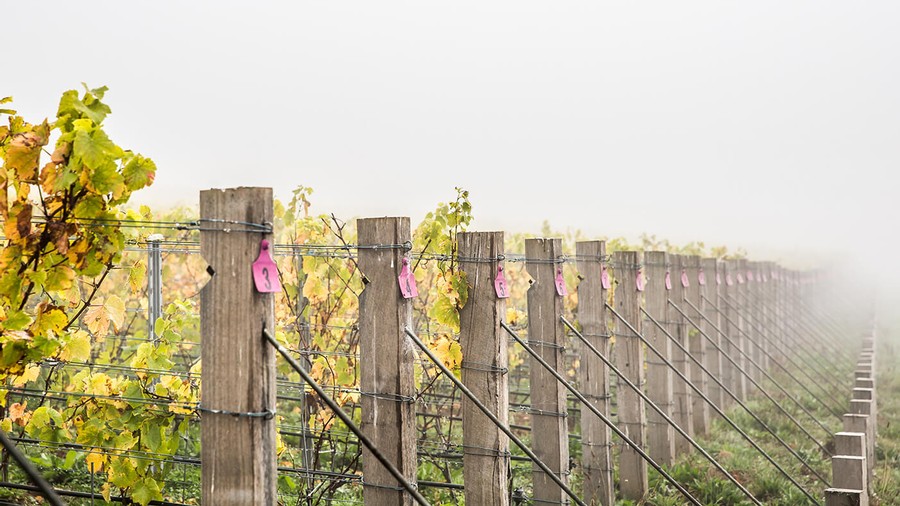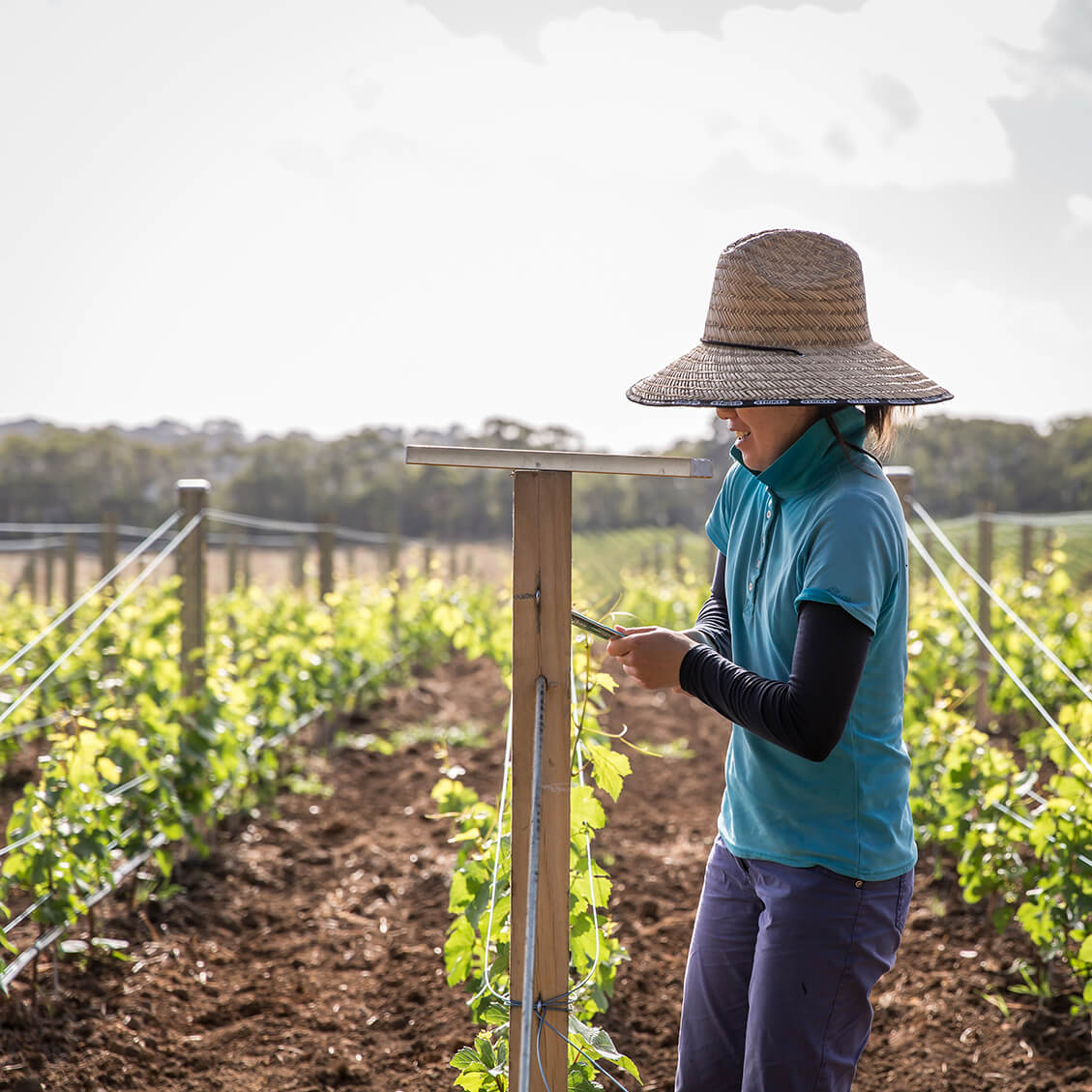 The Spedding Vineyard is now home to Mornington Peninsula's first high-density organic Pinot Noir vineyard. Planting began on 5 December 2016 on the east facing slope, just a stone's throw from our current cellar door and restaurant and we now have 18,500 vines covering just 1.48 ha. In 2017 we cultivated the opposite west facing slope and planted 10, 400 vines of medium-density Chardonnay on 1.72 ha.
HIGHEST ELEVATION


187m

VINEYARD SIZE


4.63ha

ASPECT


North to East to West

YEAR PLANTED


2016
---
Gabrielle Vineyard
This property was purchased in 2004, soon after purchasing Ten Minutes by Tractor, to provide a home for a new cellar door. The vineyard was planted in October 2004 and the first crop was harvested in 2008. The property also had a restaurant licence and our new cellar door, moved from the McCutcheon Vineyard, and the restaurant opened here in December 2006.
This block was originally planted to Pinot Gris in October 2004 and became the region's first organically certified vineyard in 2007. This site has a great Easterly aspect, rich volcanic red soils and is very well protected.
In November 2019 we planted our new high density Chardonnay vineyard, named after our eldest daughter Gabrielle. The vines are planted at over 4 times the density (75cm x 1.1m x 1.1m) of a normal vineyard to promote competition, drive root systems deeper into our red volcanic soils, and promote smaller bunches, berries and quality.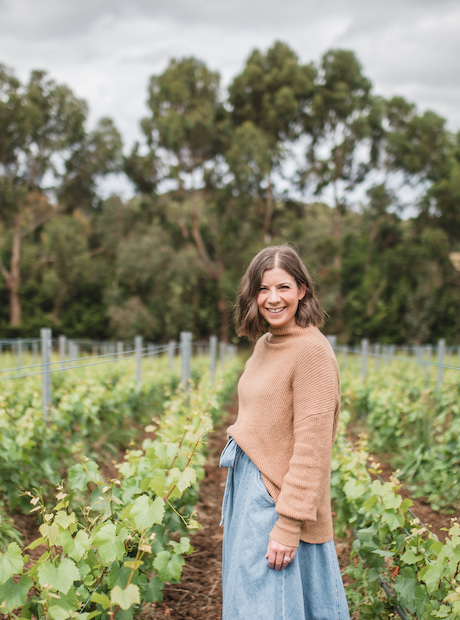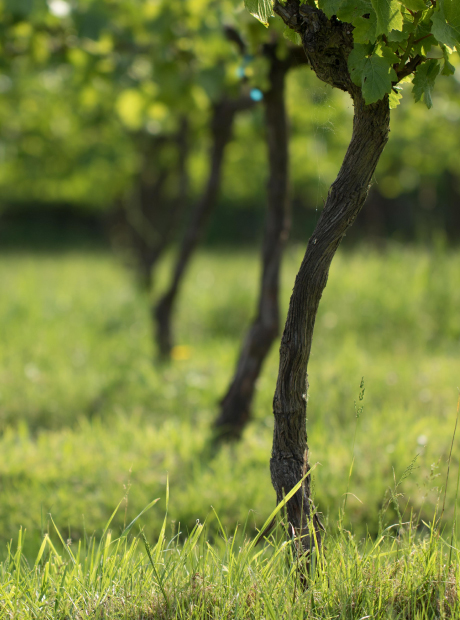 More recently we carried out an extensive renovation and fit out of the restaurant and cellar door and introduced a lovely warm and rich interior of green velvet, marble and Italian timbers to compliment the exterior vineyard landscape. The Gabrielle Vineyard is home to our Cellar Door and Restaurant.
HIGHEST ELEVATION


197m

VINEYARD SIZE


0.83ha

ASPECT


East

YEAR PLANTED


2019