Heritage
Ten Minutes by Tractor is the convergence of wine journeys that began almost 40 years ago, a group of individuals and vineyards that fortuitously came together over time to create the winery that exists today.
Our winery started in 1997 with three family owned vineyards in Main Ridge, all ten minutes by tractor apart. In 2003, Martin Spedding bought Ten Minutes by Tractor Wine Co. from the three families and since then we have opened a new cellar door, restaurant and added four new vineyards.
All our vineyards have their own unique character with different aspects, slopes, soils, altitude and cool ocean breezes which flow through the valleys from Bass Strait, Western Port and Port Phillip.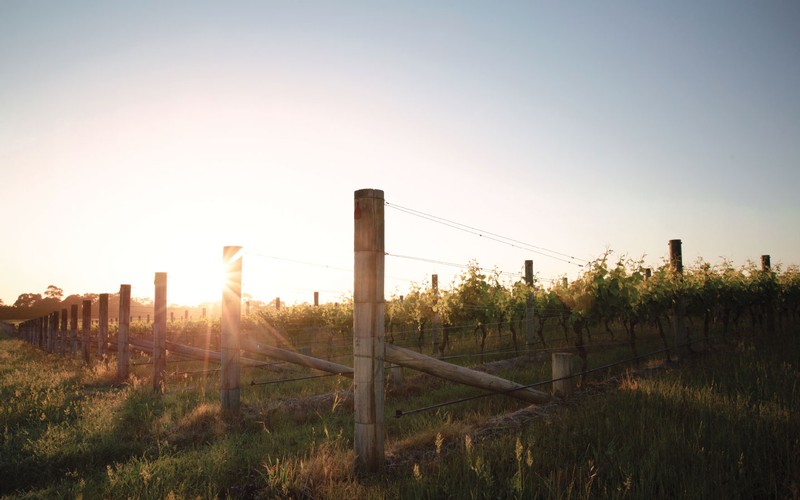 ---
The Beginnings
"We met one day to discuss a name for the company. Someone described themselves as being about '10 minutes by tractor' away from the others; the name seemed very appropriate and it stuck"
— ANDREW MCCUTCHEON
It all started in the early 1990s when the McCutcheon and Wallis families sought viticultural advice about planting vineyards on their properties in Main Ridge. Main Ridge is Mornington Peninsula's highest and coolest sub region and was considered to be ideal for producing Pinot Noir and Chardonnay. The McCutcheon and Wallis families started planting their vineyards in 1992 and the first crops were harvested in 1995.

Over the next few years, the families sold their fruit to local wineries while experimenting with making small batches of their own wine independently. Their goal was to be able to grow ultra-premium fruit and make wines that reflected the unique character of their vineyards. In the mid-1990s, the Victorian Department of Agriculture conducted a benchmarking study of the cost of grape production. Andrew McCutcheon took part using his vineyard, Peninsula Ridge, to supply data (including crop yields, income generated from selling grapes, costs of running, harvesting and maintaining the vineyard, and details of capital invested in machinery and equipment in the vineyard operation). This continued over several years, designed to enable comparisons to be made from one region to another and one vineyard to another.

The study found that production costs in this cool climate region were extremely high, the pursuit of the highest quality fruit meant yields were low, and practices such as the trellis systems required in cool climates were exceedingly labour intensive. In addition, the Peninsula had an unusually high number of small vineyards, arising from historic land use patterns, and these small vineyards in themselves did not lend themselves to attempts to improve economies of scale. Andrew concluded that…
"Rather than the 15 acres of our vineyard, a working area of closer to 50 acres could make a significant difference in reducing operating costs, so I set about contacting neighbouring vineyards, to see if there was any interest in co-operating as a way to sharing and reducing costs."

There was interest from three vineyard owners and they met to discuss ways they could work together. Each vineyard was using contractors to do some or all of the vineyard tasks and the obvious direction was to set up a viticulture company that would service the group's vineyards, on time, and as required. They could pool equipment, and as a collective, buy any item that would reduce costs and increase efficiency. The participating vineyards ended up being Judd, Wallis and McCutcheon.

In 1996 the Judd family, who also had a dream of producing high quality wines in addition to establishing an olive grove, bought a vineyard in Main Ridge, which had been planted in 1990. Coincidentally using the same viticultural consultant as the McCutcheon and Wallis families had used.

Having decided to work together, "we met one day to discuss a name for the company. Someone described themselves as being about '10 minutes by tractor' away from the others; the name seemed very appropriate and it stuck." – Andrew McCutcheon So, the three family co-operative was formed in 1997 to initially share machinery and vineyard equipment and to employ a vineyard manager.

The old Massey Ferguson tractor outside the original cellar door on the McCutcheon Vineyard
---
First Wines
In 1998 the three families agreed to make some wine together, but what should they name the winery? Clearly, they couldn't use Ten Minutes by Tractor, or could they? There were a number of suggestions for the name of the winery, including 'Georgiana's Run'. A reference to Georgiana McRae, the first pioneer woman to live in the area on Arthurs Seat and who owned the Arthurs Seat Run. However, with the threat of legal action from a Western Australia winery for the use of Georgiana in the name, the families eventually asked a friend if he could design a label using 'Ten Minutes by Tractor'. Although, at the time, it seemed like a crazy name, the name stuck because it told the story so well. The story about three vineyards, all within such a short distance from each other that produced wines that could seem like worlds apart.
A local contract winemaker was selected to make the first wines and after the 1999 vintage was lost because of a bacterial spoilage in their winery, the first vintage of Ten Minutes By Tractor that was released for sale was the 2000 vintage, in mid-2001. The success was almost immediate, with all the wines being highly rated by wine commentators. In 2002, James Halliday wrote in The Weekend Australian: "This is a deadly serious, highly sophisticated business, encompassing brilliant graphic design for its labels, high quality vineyards, winemakers and wines and successful marketing." The results of the first vintage pointed to the enormous potential of the three vineyards to produce wines of great quality, ranging from perfumed, finely textured and elegant wines through to richer, more layered and opulent wines, each a true expression of its vineyard, or its terroir.
New Beginnings
"Put simply, our future is clear – grow the best fruit we can, make wines that express the character of their origin and continue to put them in front of people who appreciate the difference."
— MARTIN SPEDDING
Shortly after releasing their first wines to the market, the three founding families realised that the success of their wine venture would demand a much greater commitment of time, resources and energy. So, they decided in early 2003 that their best course of action was to find someone who could take over their cooperative wine venture. During this time, Martin Spedding, was concluding two years of searching cool climate wine regions in Victoria, Tasmania and New Zealand to buy or establish a new winery. In 2002, after more than a decade of running his own businesses, Martin decided it was time to make a radical change of direction and realise his vision of becoming a winemaker. Martin's passion for Pinot Noir, Chardonnay and the cool climate wines of Victoria led to two years researching and visiting hundreds of vineyard sites and winery businesses across Victoria, Tasmania and New Zealand.
After almost buying a property that had once been part of the original St Hubert's winery in the Yarra Valley in late 2003, Martin returned to Mornington and visited a small winery he had discovered at the Victorian Winemakers Exhibition, in Melbourne. Martin had met Peter Wallis there, tasted and bought a bottle of the 2001 Ten Minutes by Tractor, Reserve Pinot. "The wine was a revelation, the best bottle of Australian Pinot I had tasted. It had a wonderful balance, a beautiful fine structure and great acidity. To me, at that time, it was head and shoulders above anything else I had tasted and confirmed the great potential to make outstanding wines on the Mornington Peninsula" It was this bottle and the meeting with Peter Wallis that led Martin to visit the Ten Minutes by Tractor cellar door 12 March, 2004. There he met Julie Eldridge, who ran the cellar door and who still works at Ten Minutes by Tractor today.

Spedding Family – Owners, Ten Minutes by Tractor
When Martin was told by Julie that his favourite small winery on Mornington Peninsula was for sale, he knew he'd found the winery he was searching for.

When the purchase was finalised in April 2004, Martin said:

"Put simply, the future was clear – grow the best fruit we can, make wines that express the character of their origin and continue to put them in front of people who appreciate the difference."

A few months later, a site was purchased nearby on Mornington Flinders road in Main Ridge for a new home for the Cellar Door and for Ten Minutes by Tractor. The Winebar vineyard was planted there in November 2004 and the new cellar door and restaurant was finally opened on Boxing Day, 2006.

In February 2006, Martin and Karen Spedding bought the McCutcheon Vineyard from Andrew and Vivian McCutcheon and live on the vineyard.
Two new vineyards were also added to the Estate in 2009 and 2015, one on Coolart Road in Hastings/Tuerong and the other neighbouring the cellar door property on Mornington Flinders Road. The Coolart Road and Spedding vineyards have added significantly to the Estate plantings and have allowed Ten Minutes by tractor to further expand its production and to plant one of the largest high-density vineyards in Australia.

Martin and Karen's energy, drive and vision have transformed Ten Minutes by Tractor into one of the leading cool climate wineries in Australia and one of the most popular winery destinations on the Mornington Peninsula, including the regions only two hatted winery restaurant.

The McCutcheon, Wallis and Judd families have remained close personal friends of Martin and Karen Spedding and continue to be great supporters of the winery that they helped to establish over 20 years ago.