16 December 2020 | Gabrielle Richardson
Qantas Travel Insider: This Mornington Peninsula Winery is Making a Grand Comeback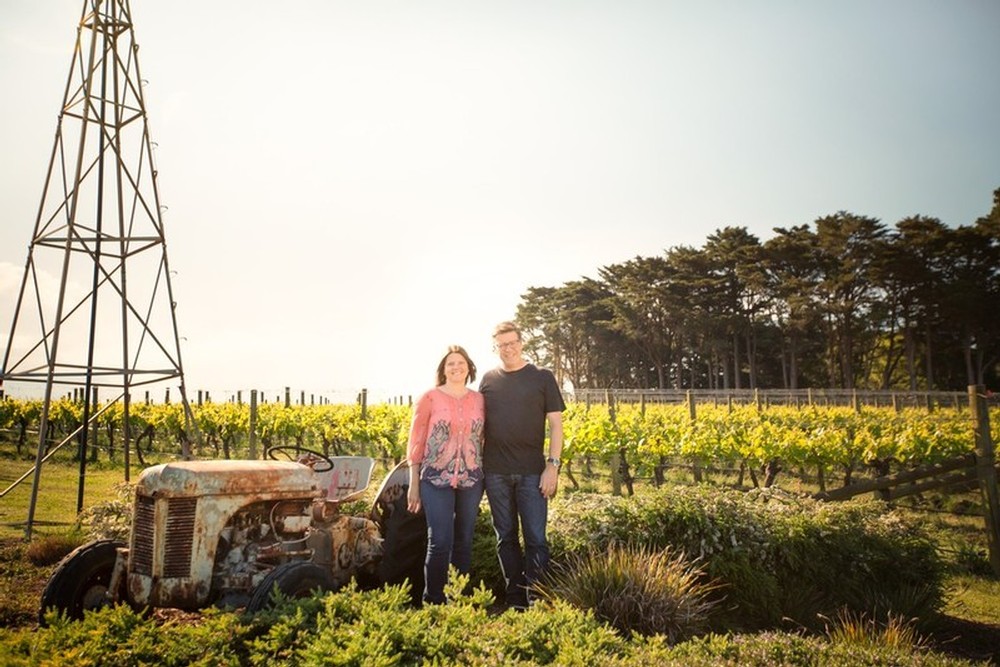 The last three years have taught Martin and Karen Spedding a thing or two about resilience – and patience. Their winery, Ten Minutes by Tractor, perched high in the hills of the Mornington Peninsula, was dealt a devastating blow when a fire tore through the estate in February 2018, destroying the acclaimed restaurant and cellar door, a $500,000 wine collection and several vintage tractors.
The Speddings and their team rebuilt and the restaurant reopened in late 2019, only for the COVID-19 to hit just a few months later, shuttering the new dining and cellar door operations for most of 2020.
It was a worrying time for the family business but it "certainly helped strengthen us and build resistance and it fired up our creativity as well," says Martin of the most challenging period they've faced since buying the winery in 2004. But things are finally looking up. The newly reopened restaurant has expanded, with a new private dining room for 24, plus a large outdoor terrace for sipping away the summer. Head chef Adam Sanderson's six-course seasonal tasting menu is driven by fresh produce from local growers. "We're excited for people to come back and experience it," says Martin.
They have other reasons to be grateful. The business employs up to 50 staff depending upon the season and many of them have been able to retain their jobs during COVID. Martin tells how the restaurant quickly pivoted to The Art of Dining In – an at-home meal service "to stay connected with our customers and keep some cash flow coming in". Staff from across the business were also retasked to work in the vineyards and the winery.
Previously the CEO of a tech company, Martin gave up the office life in favour of a "wine change" when he and Karen purchased Ten Minutes by Tractor from its original founders: three families who had joined their neighbouring Main Ridge vineyards together in a co-op in 1997, the properties all 10 minutes by tractor apart. And while they've diversified the business, winemaking remains the lifeblood.
Ten Minutes by Tractor produces between 10,000 and 14,000 cases a year depending upon the crop and while it predominantly sells in Australia, it's also exported to about 10 countries across Europe, Asia and the US. This international market proved a godsend when nationwide restaurant shutdowns saw the winery's local sales collapse (restaurants account for more than 50 per cent of wine sales). "During COVID we actually picked up about three or four new export markets which was surprising and obviously very welcome," says Martin.
Pinot and chardonnay are the winery's signatures (standout vintages, Martin says, include 2015, 2017 and the upcoming 2019 collection) and Mornington's diverse landscape makes it a great location to live and grow grapes. "It's such a beautiful place and so unique. It's so compact and in very short spaces you can move from the rugged coastline on the western side to the hinterland and the rolling hills and then the golden-sand beaches of Port Phillip Bay on the other side. There are walking tracks, bike trails, golf courses, more than 50 wineries and some of the best places to enjoy food and wine that you'll find anywhere in Australia."
"We're able to efficiently manage those business expenses with the Card, plus it has real benefits for our cash flow," says Martin. "It was a quick process to set it up and it's an efficient way for us to manage business expenditure, whether it be for the vineyard, winery or in managing the restaurant. And, of course, the points earn is a big factor that will help cover the cost of flights interstate when we're doing trips to see customers and to fly internationally for various export markets once overseas travel resumes. I'm guessing we'll earn about half a million Qantas Points with the Card over the course of a year."
But first, Martin and Karen are looking forward to using their Qantas Points to see more of their family. Just a few days after the NSW/Victoria border reopened in November, Martin was back in the air for a very special reunion – making a trip to Sydney to visit his daughter Gabby and 14-month-old grandson, who he'd only seen once in 10 months. "I missed his first birthday. There's been a lot of missed milestones in 2020. It's been a year to forget but it's also reminded us of the things that are important to us."
They'll also use their points to see more of Australia – "We're all quite excited about the opportunity to do a lot more domestic travel; we've talked about going to Broome or up to the Northern Territory" – and once international travel resumes, they're planning a trip to Canada to visit his in-laws, as well as family time in Fiji or Hawaii. "But we won't be taking any holidays for a while," Martin smiles, as he looks forward to the months ahead. "We're certainly hoping that a lot of people will be getting out of the city and back into the regions. I think we're all looking forward to an uneventful but very busy summer."
Martin Spedding's top business tips | Ten Minutes by Tractor
Create an experience that keeps people coming back: "We really have to be the best we've ever been," says Martin. "I think the COVID fallout has pushed us really hard to keep striving to do better." Case in point: Ten Minutes by Tractor's new and improved cellar door. "Over the next 12 months we're putting a lot of effort into our new tasting rooms and planning a new wine gallery, which is really about providing a great experience for people who come and visit us; something that's memorable and different rather than just a very straight forward tasting of the wine. People are looking to immerse themselves and learn in impactful ways. Those experiences are what people love about travel. Even if they haven't got time to do everything on this trip, that's a reason for coming back and doing more next time."
You're stronger as a team: Ten Minutes by Tractor started as a co-operative and this spirit lives on among the Speddings and their fellow peninsula winemakers. "Our region is dominated by small family-owned wineries and growers of apples and cherries and other produce so we work very closely with the other wineries to promote the region and cooperate across a range of issues that impact the industry," says Martin. "We compensate for our size by working together to share knowledge and experiences so we can continue to improve everything we do and to embrace sustainable agricultural practices to protect the health of our soils and our vines."
Published 1 Dec 2020
By Mark Brandon
Comments
Commenting has been turned off.
Instagram Feed