Tractor Oil 250mL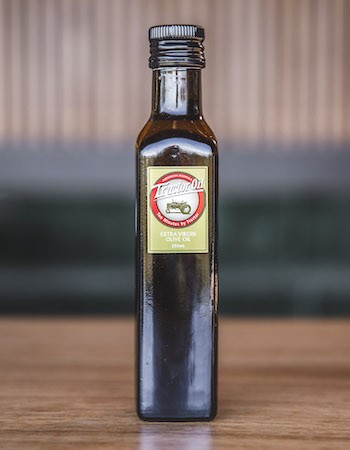 Tractor Oil 250mL
This premium cool-climate olive oil was produced from Picual, Correggiola, Barnea and Frantoio olives grown on the Judd vineyard in Main Ridge, Mornington Peninsula.
The Judd vineyard is one of the three original vineyards used by Ten Minutes By Tractor Wine Company to produce its award-winning wines.
The olives were cold pressed to produce an oil with delicate aromatics and elegant flavours.
The 2019 harvest followed a warm, dry season.
The oil has grassy aromas and, on the palate, green apple with a hint of pepper. The palate and is medium bodied with a lingering finish.
Wine Profile
| | |
| --- | --- |
| Vintage | |
| Vineyards :: Clones | |
| Harvest date :: Yield | |
| Brix :: pH :: TA | |
| Winemaking | |
| Winemakers | |
| Aging :: Oak | |
| Residual sugar | |
| Finished pH :: TA | |
| Alcohol % | |
| Production | |
| Tasting Notes | |
| Food :: Temperature | |
| Best drinking | |
| Downloadable PDF | |