Ten Minutes by Tractor Gift Card (Australia Post Delivery)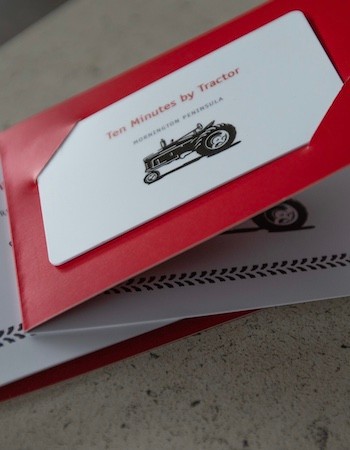 Ten Minutes by Tractor Gift Card (Australia Post Delivery)
Gift cards can be redeemed in our fine dining restaurant, cellar door or online via our website and are valid for three years.
Delivered physically via Australia Post, a gift card from Ten Minutes by Tractor allows your recipient to purchase wine at our cellar door or to enjoy dining at our restaurant.
Please select "New Shipping Address" and provide the recipent's details in the shipping section during checkout. This is to whom the card will be sent.
Gift cards are valid for 3 years from the date of purchase.
** Please note our fine dining restaurant offers a 5 tasting menu starting at $175 per person. We do not offer an a la carte menu.
Wine Profile
| | |
| --- | --- |
| Vintage | |
| Vineyards :: Clones | |
| Harvest date :: Yield | |
| Brix :: pH :: TA | |
| Winemaking | |
| Winemakers | |
| Aging :: Oak | |
| Residual sugar | |
| Finished pH :: TA | |
| Alcohol % | |
| Production | |
| Tasting Notes | |
| Food :: Temperature | |
| Best drinking | |
| Downloadable PDF | |