2018 Single Vineyard Six Pack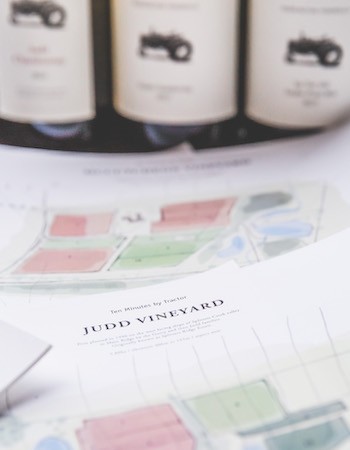 2018 Single Vineyard Six Pack
The Ten Minutes by Tractor Single Vineyard wines are created from our highest performing blocks from the Judd, McCutcheon and Wallis vineyards in Main Ridge and Coolart Road in the north of the Peninsula. Harvesting from small carefully selected parcels and great attention to detail in the vineyard and winery ensure the clearest expression of terroir. These wines are truly very limited edition wines, with less than 200 dozen produced in most years.
McCutcheon Chardonnay 2018
Peach, lemon curd and quince are the dominant characters on the nose and palate of this enticing and layered Chardonnay.
Judd Chardonnay 2018
Enticing notes of grapefruit and white flower build this fine structured wine filled with poise and precision.
Wallis Chardonnay 2018
White nectarine, fig and green papaya jump from the glass inviting you to explore this elegant Chardonnay.
Coolart Rd Pinot Noir 2018
This sultry perfumed Pinot Noir displays dark cherry, bramble and earthy notes that is beautifully rounded out by the chewy and grippy tannins.
Judd Pinot Noir 2018
The delicate sweet cherry edge and expressive notes of lavender, licorice and blackcurrant leaf define this cool climate Pinot Noir.
Wallis Pinot Noir 2018
A beautiful bouquet of sage and boysenberry capture the fruit expression from this Flinders site.
Wine Profile
| | |
| --- | --- |
| Vintage | |
| Vineyards :: Clones | |
| Harvest date :: Yield | |
| Brix :: pH :: TA | |
| Winemaking | |
| Winemakers | |
| Aging :: Oak | |
| Residual sugar | |
| Finished pH :: TA | |
| Alcohol % | |
| Production | |
| Tasting Notes | |
| Food :: Temperature | |
| Best drinking | |
| Downloadable PDF | |