La Nina Mixed Chardonnay Selection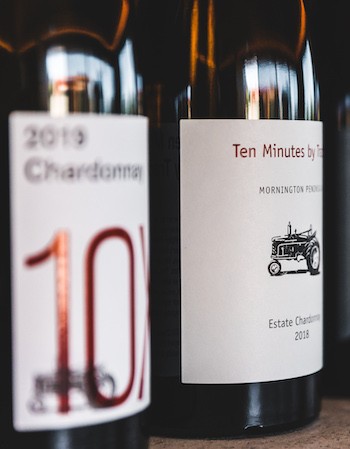 La Nina Mixed Chardonnay Selection
10X Chardonnay 2010
Aromas of toasted brioche, chamomile, quince, oatmeal and honey. Vibrant acidity on the palate, white nectarine, bright citrus, and pithy grapefruit. Ripe quince and chestnut in the mid-palate with good balance and length.

10X Chardonnay 2011
An 'edgy' chardonnay showcasing citrus lemon, flint and wet stone balanced out by a lovely cashew nuttiness. An austere wine reflecting the cool wet vintage.

10X Chardonnay 2012
A riper style in comparison to the 2010 & 2011. Aromas of rockmelon and cantaloupe dominate this wine. As the wine unfurls on the palate we discover apricot kernel, cashew and a hint of caramel to finish.
Estate Chardonnay 2010
Honeydew, cardamom, coriander seed and beeswax aromas on the nose. Gentle acid, zesty, very fine with creamy vanilla on the finish. A wine with some years ahead.

Estate Chardonnay 2011
A hint of fine oak on the nose, spice and vanilla. On the palate crunchy acidity, roasted pineapple, green vegital characters and a little phenolic bitterness. A lean and austere wine reflecting a cold wet vintage.

Wallis Chardonnay 2012
A little more tropical in personality showing guava, mango, pineapple and lemon balm. A silky palate is complemented by notes of caramel and oak bring balancing spice to the wine.
Included:
1 bottle of each wine (6 total)
Tasting notes
Vintage Charts
Wine Profile
| | |
| --- | --- |
| Vintage | |
| Vineyards :: Clones | |
| Harvest date :: Yield | |
| Brix :: pH :: TA | |
| Winemaking | |
| Winemakers | |
| Aging :: Oak | |
| Residual sugar | |
| Finished pH :: TA | |
| Alcohol % | |
| Production | |
| Tasting Notes | |
| Food :: Temperature | |
| Best drinking | |
| Downloadable PDF | |