Julie's Cru Selection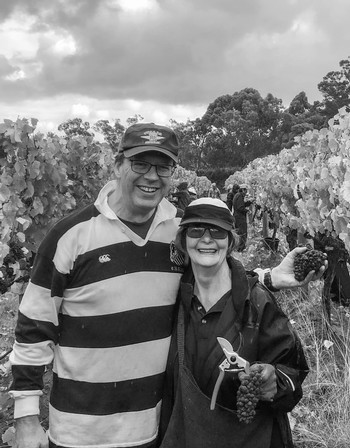 Julie's Cru Selection
"These wines include a selection of my favourite vintages and grape varieties – Chardonnay and Pinot Noir from the wonderful 2015 vintage (my favourite) through to the 2019 vintage. In addition, we have the diversity of our 'Up the Hill' and 'Down the Hill' vineyards." - Julie
We are delighted to be able to offer you Julie's selection for this month's 'Curated by' series. Karen and I and all our team will miss her dearly!
Julie's Cru Selection | 6 bottles
10X 2017 Chardonnay
A very approachable wine fresh and vibrant. Great acidity and stone fruit with a subtle hint of oak in the background.
Estate 2018 Chardonnay
This wine is a blend of fruit from four of our vineyards and presents an expressive nose of white flower, chamomile and nectarine. As the fruit shines through and opens up, drops of citrus fruit line the palate and are equally complimented by the fine grip and texture on the finish.
10X 2017 Pinot Noir
The majority of the fruit is from our 'Down the Hill' Coolart vineyard our warmest site. A very bright vibrant Pinot with juicy raspberry fruit and a lovely savoury finish.
10X 2019 Pinot Noir
Once again, the majority of the fruit from our 'Down the Hill' warmer site. This wine offers everything you would expect from a young Pinot – alluring spice, juicy and fleshy dark cherry and blackcurrant with fine tannins. A very friendly and appealing wine.
Estate 2015 Pinot Noir
A blend from four of our vineyards, 'Up the Hill' and 'Down the Hill'. A fine expression of concentrated fruit, dried herbs and savoury notes.
Judd 2016 Pinot Noir
A very low yield resulted in a very concentrated masculine wine. Lovely strawberry fruit lifted by a background of vanillan oak sweetness, pronounced tannins and persistence.
Wine Profile
| | |
| --- | --- |
| Vintage | |
| Vineyards :: Clones | |
| Harvest date :: Yield | |
| Brix :: pH :: TA | |
| Winemaking | |
| Winemakers | |
| Aging :: Oak | |
| Residual sugar | |
| Finished pH :: TA | |
| Alcohol % | |
| Production | |
| Tasting Notes | |
| Food :: Temperature | |
| Best drinking | |
| Downloadable PDF | |