Judd Chardonnay Vertical Gift Pack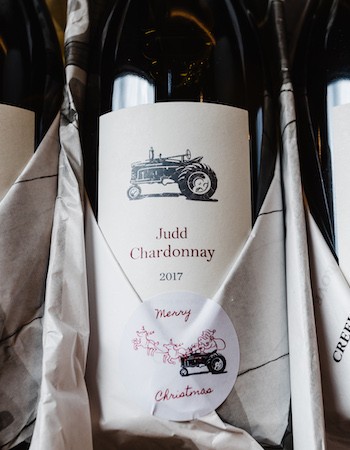 Judd Chardonnay Vertical Gift Pack
Straight Down the Line
Wrapped in our signature vineyard map wrapping paper along with our Christmas packaging, treat someone special to a back vintage selection of our award winning Judd vineyard Chardonnay.
Included:
Ten Minutes by Tractor Judd Chardonnay 2016
As befitting a warm and early harvest, the 2016 Judd Chardonnay underwent only partial malolactic fermentation, giving it greater freshness with more layers on show - waxy oak and brioche on the nose, whipped butter and white nectarine on the palate. A full-bodied, yet carefully crafted and contained modern Mornington Chardonnay.
Ten Minutes by Tractor Judd Chardonnay 2017
Showcasing the most natural acidity of any of the 2017 white releases, this is a wine of some contrasts. On the one hand there's a pithy, flinty funky nose that takes its cues from CocheDury Meursault , but underneath there's a palate that is linear and so tight. A very modern and evocative white wine with classy energy and life, if in a very svelte form
Ten Minutes by Tractor Judd Chardonnay 2018
Enticing notes of grapefruit and white flower build this fine structured wine filled with poise and precision. Green apple crunch leads into the crisp and clean finish that lingers with persistence displaying incredible length and purity
Available for delivery Australia wide.
Wine Profile
| | |
| --- | --- |
| Vintage | |
| Vineyards :: Clones | |
| Harvest date :: Yield | |
| Brix :: pH :: TA | |
| Winemaking | |
| Winemakers | |
| Aging :: Oak | |
| Residual sugar | |
| Finished pH :: TA | |
| Alcohol % | |
| Production | |
| Tasting Notes | |
| Food :: Temperature | |
| Best drinking | |
| Downloadable PDF | |