Tranquility & Terroir
In partnership with Alba Thermal Springs & Spa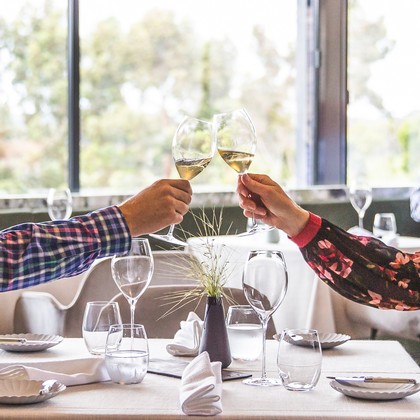 Enjoy all the Mornington Peninsula has to offer with this tranquil package for two.
Start your journey at Alba Thermal Springs & Spa in the tranquil warm waters and naturally occuring minerals of the geothermal springs. Spend the morning relaxing at this restorative haven before joining us at the Ten Minutes by Tractor Cellar Door for a wine tasting to explore the unique terroir of the Mornington Peninsula.
Once you're fully relaxed, enjoy a five course tasting menu at the Ten Minutes by Tractor Restaurant featuring fresh seasonal produce perfectly prepared by Chef Hayden Ellis.
Your itinerary:
Arrive at Alba Thermal Springs & Spa by 8:30am to enjoy a morning of tranquility with access to 22 geo-thermal springs
Join us for a tasting at the Ten Minutes by Tractor Cellar Door
Enjoy a five course lunch at the Ten Minutes by Tractor Restaurant
Total experience | $560 for two people
*Guests must arrive at Alba Springs no later than 8.30am and at Ten Minutes by Tractor Cellar Door no less than 30 minutes prior to their lunch booking
**Wine and beverages to accompany lunch and are not included
***Transfers not included
***Please note, a 10% surcharge applies to the meal on Sundays & a 15% surcharge applies on Public Holidays